We have today and tomorrow to spend time in the area of the Poas volcano, but due to an error in the choice of our hotel, we ended up in a place completely away from all tourist itineraries. Usually, people stay east of the volcano to take the illustrated blue route, which climbs up to the caldera of the volcano. However, our hotel Bosque de Paz was west of the volcano … A simple mistake in a region with few roads which rendered inaccessible our planned activities. While we were initially a little disappointed, the place where we stayed turned out very charming and a pleasant surprise.
To get to the hotel from Alajuela, we trusted our friend Google. The optimized route included moments on not too recommendable routes and places that we probably would never frequented otherwise. But almost always, the indications are reliable and we can go with our 4×4. Finally, until we got to that bridge. This was clearly the most fun time of our day!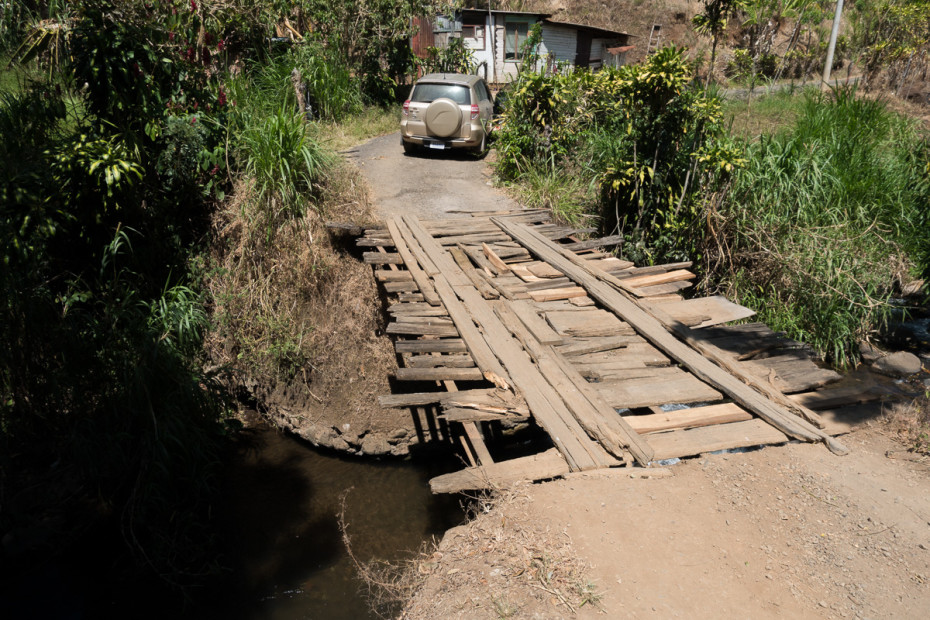 Let's say that the bridge did not inspire much confidence… I stopped to conduct a little inspection that revealed the presence of three steel beams under the wood structure. Well, it's a bit reassuring, but they were not under the wheels of the car … I decided to find a local person, who told me that heavier vehicles passing here and I would run no risk. As a precaution, I ask the children and Sounda to cross by foot. Returning to the car, I had a thought… Is it safer to fall in a river with a safety belt or not? I opted to tie me. In case of sudden acceleration, I did not want to be pressed against the roof of the car and then crushed against the steering wheel… Finally, the bridge was strong for me to cross and we laughed about our fright!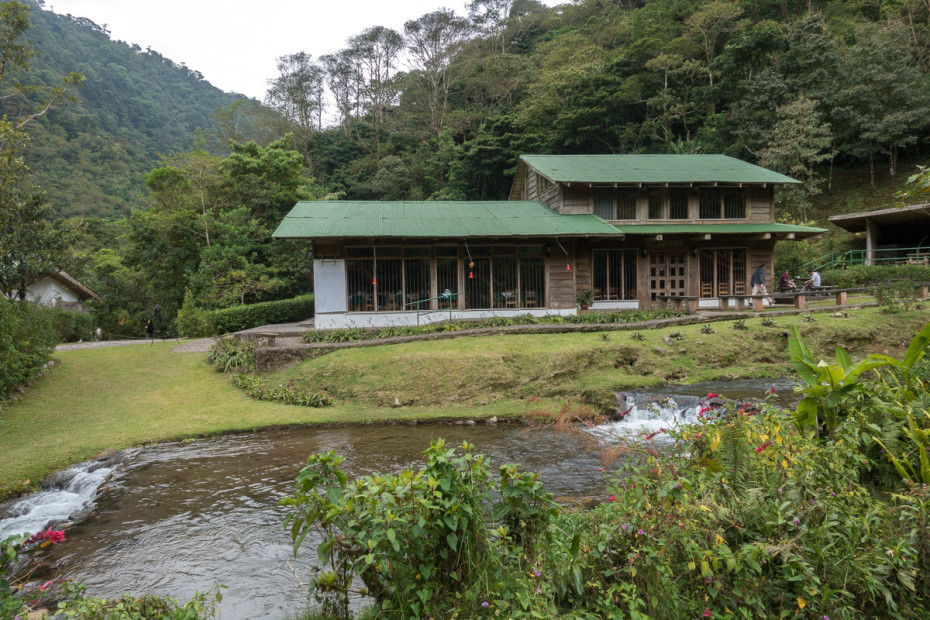 We arrived in a highly popular spot for birdwatchers. The site is lovely, on the edge of a river. The dining room overlooks the hummingbird feeders that are here more abundant than flies! It is a small hotel with few rooms (12) and the service is outstanding, both in terms of the food and the friendliness of our hosts. Trails depart from the hotel to explore the private property, which occupies a vast land in the cloud forest.
The people visiting were from England, the US and Canada. All bird lovers who walked at all times with a field guide and binoculars ..
The first day, we only had time to take our lunch before exploring one of the trails. Unfortunately, Lohan was exhausted and Sounda missed this beautiful walk …
2nd day
It rained all day. And raincoats were left hanging behind the door of our hotel in… Monteverde! Sounda forgot to look at this place before leaving and so we were without our only protection against the wind and rain … (Unless she, of course!). The kids could not get outside, so we decided to spend the day for school. Lohan had a little determination, but with Mael, it was a disaster. He did not want to cooperate. For example, at its weekly dictation, he wrote two words to finally say "I'm done and I don't mind having 0%." He ended up getting what he wanted. We ended the school but not the way he wanted. Gone iPad, insect net and other pleasures. Mandatory nap was established, what he hates most …
When he woke up, he requested that we resumed school and got 100% in his dictation. We sympathize with all the teachers who have to deal with students who have a bad attitude towards learning…
Our day ended with a wonderful conversation. Our interlocutor, Mike, was extremely interesting on several topics. He shares our concerns about how a carnivorous humanity is destroying the planet to raise cattle. He, who has been a vegetarian for 25 years, is now vegan (he removed all animal products from his diet, such as eggs, milk, cheese, etc.). Our conversations were then derived to more existential questions about who we are, what defines us, what makes us happy and finally on Buddhism. Not having been with our children, we would have chatted for several hours!
Day 3
"OUCH !!!! Mamaaaaaannnnn !!!"
The day starts well. Lohan is stung in the palm of the hand. The culprit: a funny aquatic insect that Mael fished out of the pond with his net. The sting is very painful, but after fifteen minutes and a candy, his condition improves. We commend him for his bravery, he just passed through its second sting in as many weeks! He leaves, following Mael in his footsteps, to serve as his assistant entomoloque. For me, the important thing is that these bad adventures do not permeate into fear (or have serious consequences).
Today, the rain gave way to a blue sky. It's a bit chilly, but the day is beautiful. We enjoy our last hours to walk through the forest and we are charmed by the beauty of nature: the river alongside the trail and we have hummingbirds escorting us. One of them even landed on Mael's hand for a few blissful seconds! A magical moment. A little further, a bird in the family of Quetzal, a trogon, perched on a branch near us …
Too bad, but it's already time to leave. We are not sorry to exchange the cold and rainy weather some something warmer. We're going to the capital, San Jose, to greet Mamie Lise at the airport … The children are overjoyed that the family clan will gain a new member for a few weeks!
The wildlife corner
Where are we in Costa Rica?