Imagine what life might be like if humans lived in harmony with nature… Unfortunately, humans destroy to extract resources and it's not going to change anytime soon. However, there remains a glimmer of hope that comes from people in a perpetual quest to develop self-sufficient places. Places where nature is inspiring and appreciated in all its splendor. Rancho Margot is such a place.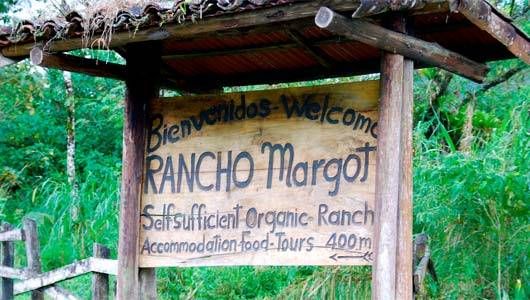 Rancho Margot is a small ecological paradise located close to Lake Arenal. Workers cultivate their own food, create their furniture, manufacture their soap and produce all the electricity with their own hydro-generators. Tractors run on biodiesel from cooking oils. Even organic waste from the pig farm and the barn are used to produce gas to power the kitchen ovens. In fact, about 70% of everything that is used on the property is produced here!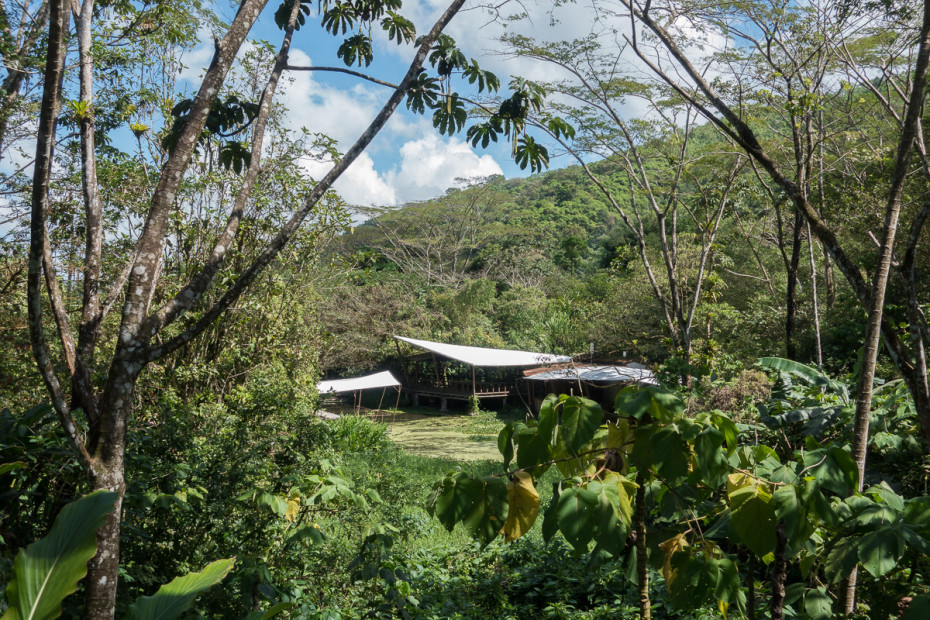 We stayed 5 nights at Rancho Margot, which enabled us to touch the soul that lives in this place, which, at first glance, seems a little mess. Small houses that host travelers are perched on the mountainside. Nearby, a dormitory welcomes volunteers who, in exchange for help on the farm, stay and eat for free. Down a small path lies the reception buildings, kitchen and dining room. If you walk around the property, you discover a place to receive massages, a swimming pool, a place dedicated to yoga and a little further, the organic farm that encompass gardens, stables, and the usual suspects on a farm (chickens, cows, chickens).
Our cabin is very spacious and we feel alone in the world in the lush vegetation.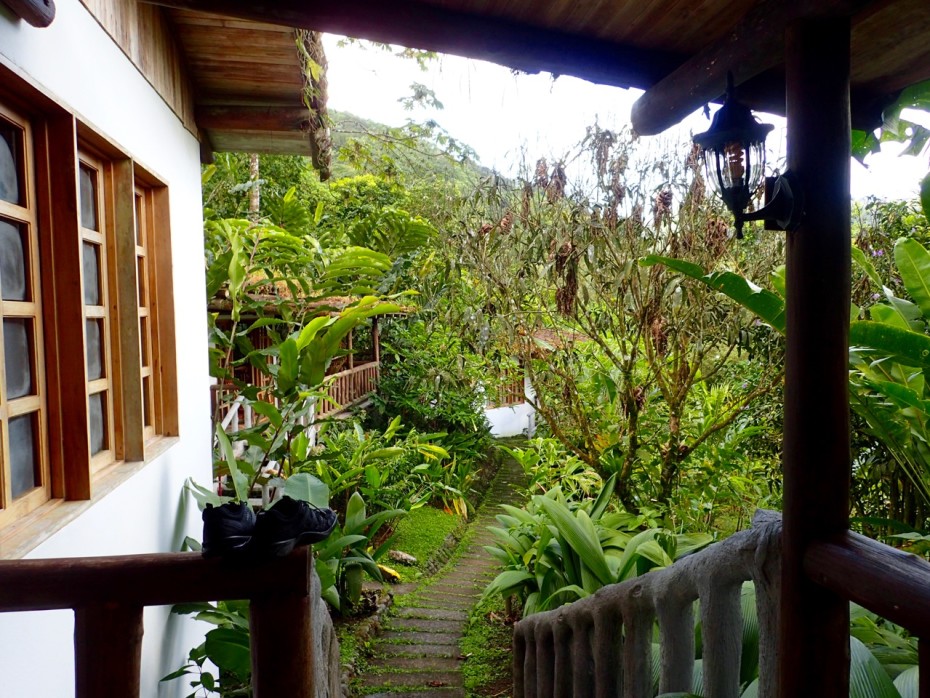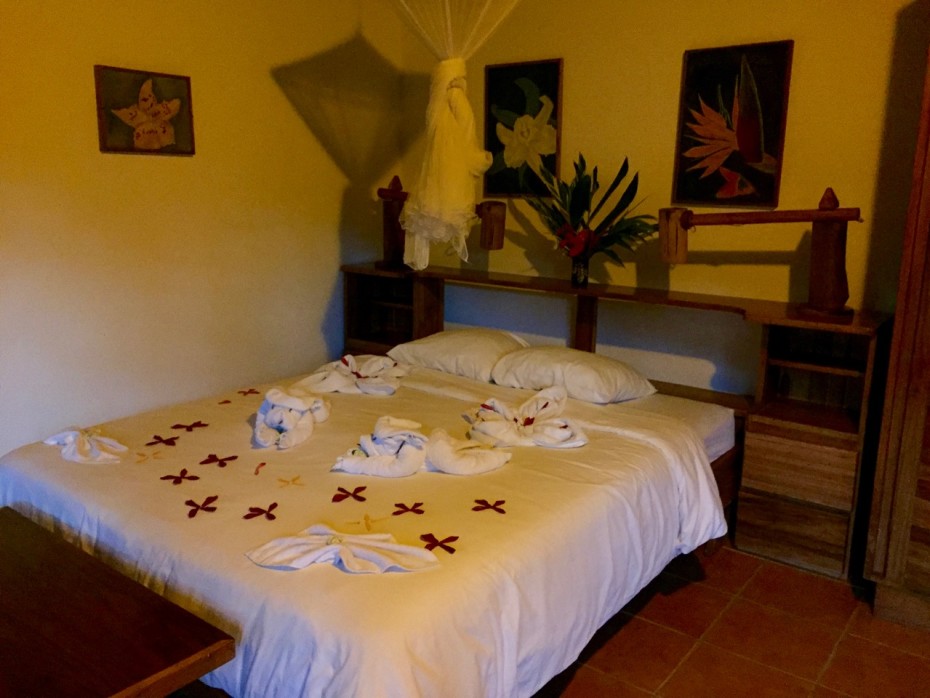 After settling in our room, we went on to explore the farm to find anything that would make the children happy.
Our days went by at a leisurely pace: some school, excursions to discover new bugs, eat good food and enjoy the music that accompanied every dinner. Our stay coincided with the passage of a cold front over Costa Rica, which lowered the temperature to 15C with torrential rains. We did appreciate all the smells that are released with the rain because, since leaving Quebec 14 months ago, we never had a rainy day! We found the time to go hiking in a beautiful path that led us into the heart of the rainforest.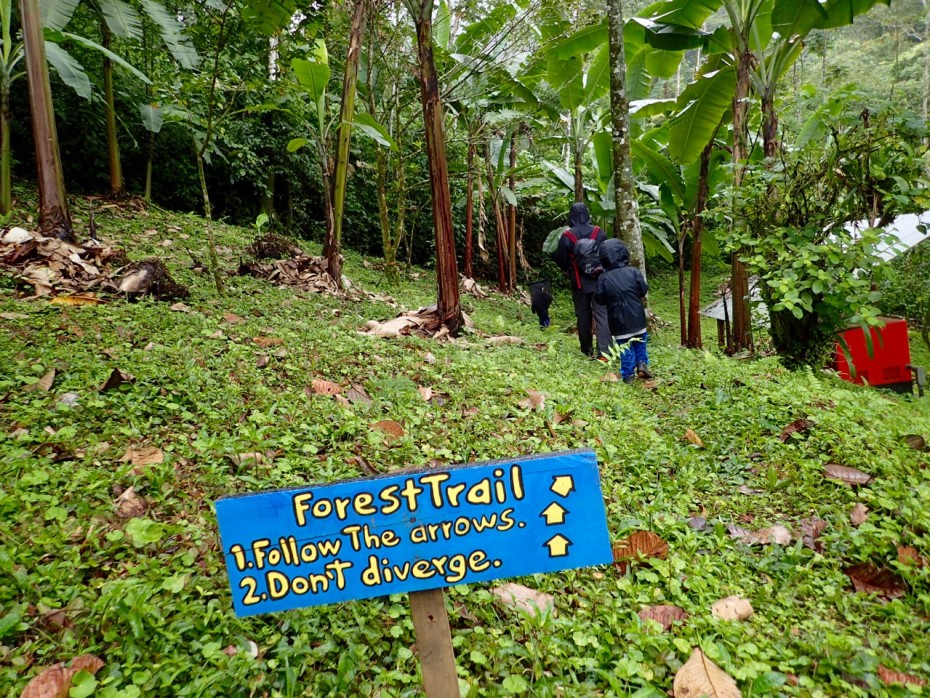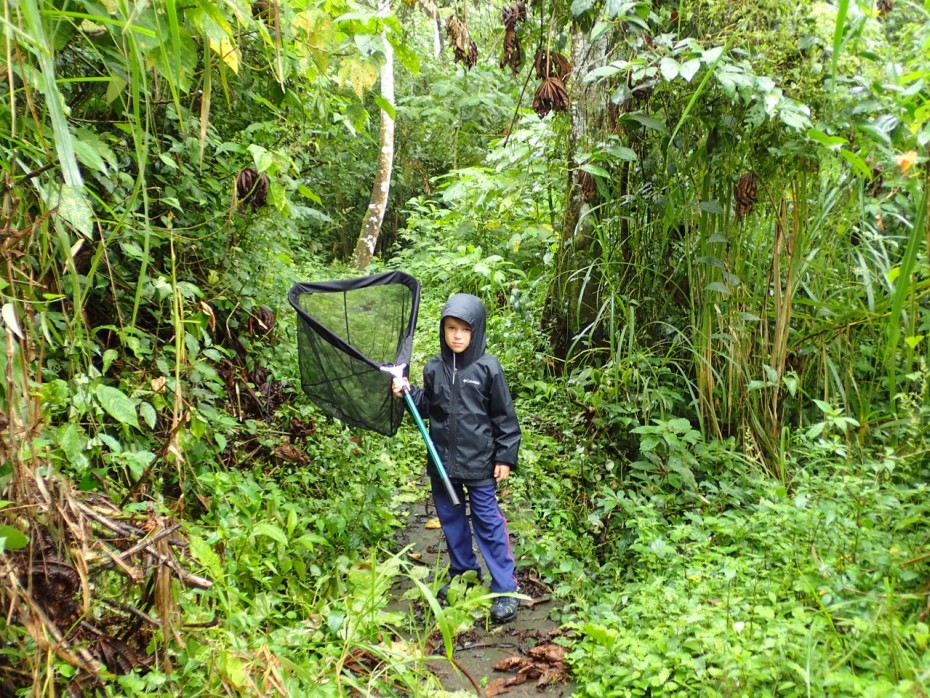 During this walk, we met with a very special tarantula… Note its attack position and especially how the front legs are positioned.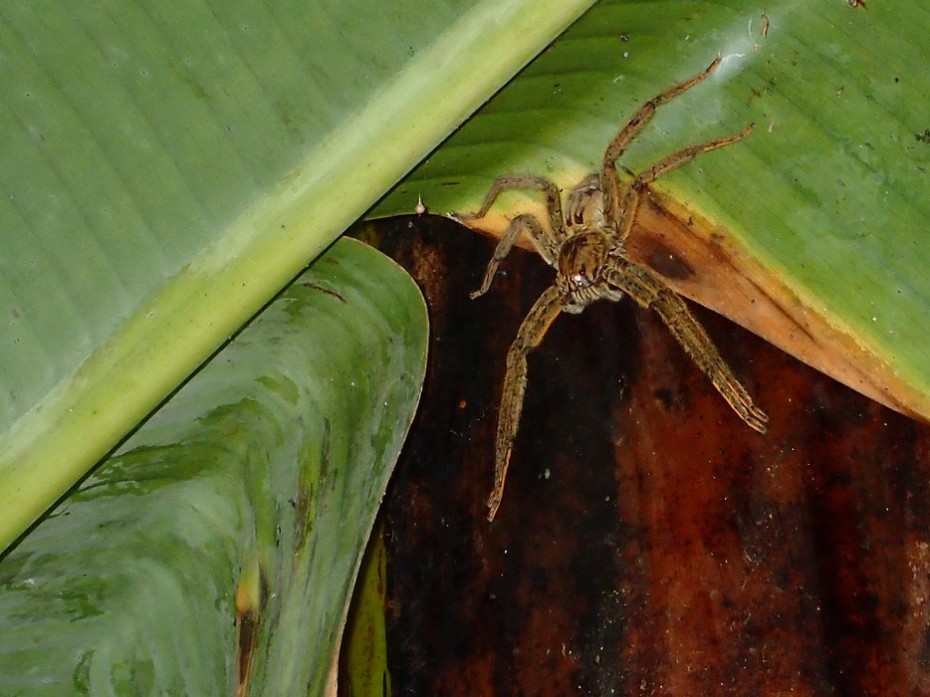 We have taken our precautions to capture this specimen that was lated identified by a guide in Monteverde. This tarantula is fascinating and we invite you to watch the first part of this episode to witness a full fledge attack of this beast.
Our main daily challenge was to cope with the cold weather without sufficient proper clothing. Hot water was not always available, which has had an impact on our personal hygiene. In return, the food was always outstanding, varied and of the highest quality. In addition, each evening, we were entitled to a musician / singer who played us some songs. Sometimes, Melody the yoga teacher would join him, and she has such an enchanting voice…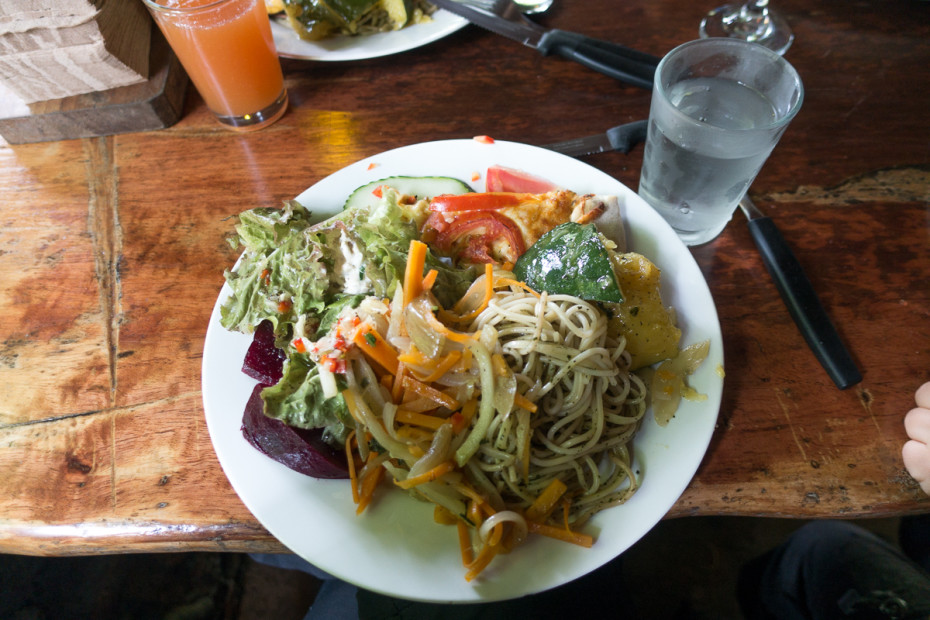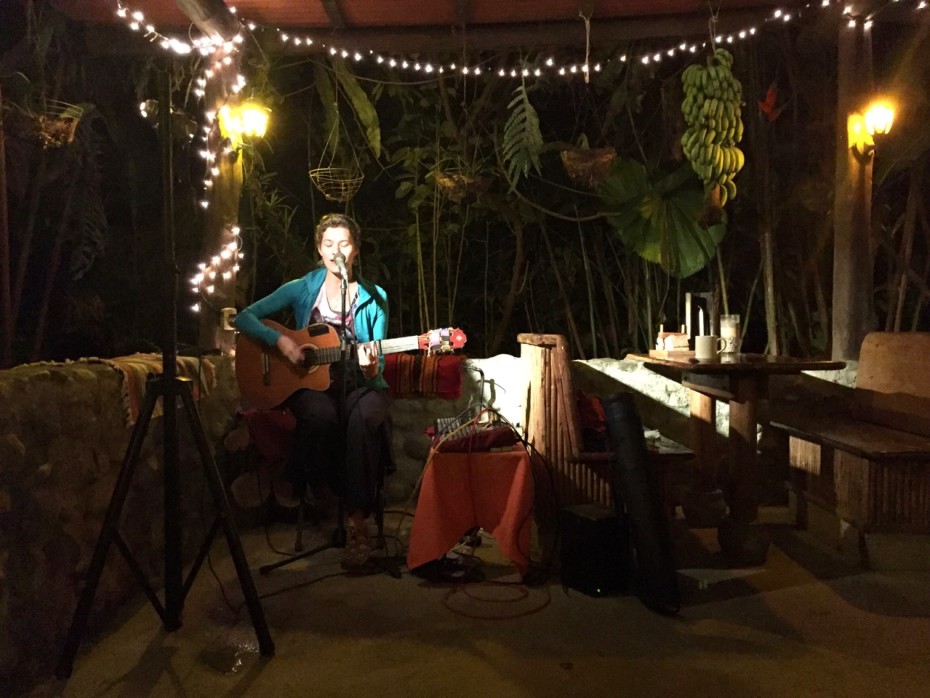 During our stay, we took advantage of some of the activities available. The first was cow milking and it was a first for us to touch a cow's udder and extract some warm milk. The kids adored it and they even tasted their first cup of milk straight from the cow.
A few days later, we had an introduction to horseback riding. We left with two horses (a  kid with a parent on each) and a guide. We did a short hike 30 minutes to finally cross a river! My horse was cooperating, but Sounda had more trouble to get her horse to dip in the water. We then went back to the stables to get a horse for Mael and make another small circuit. All in all, a nice introduction and the whole family loved it.
The third adventure awaited us was a night walk to discover the wildlife than awaken at dusk. It was pouring rain but that did not stop us, me and Mael, to go with a guide. We saw some beautiful specimens : reptile, mammals, amphibians, insects and even beautiful, glow-in-the-dark lichen…
Finally, Melody has agreed to offer us private yoga sessions, adapted to beginners such as Mael and myself.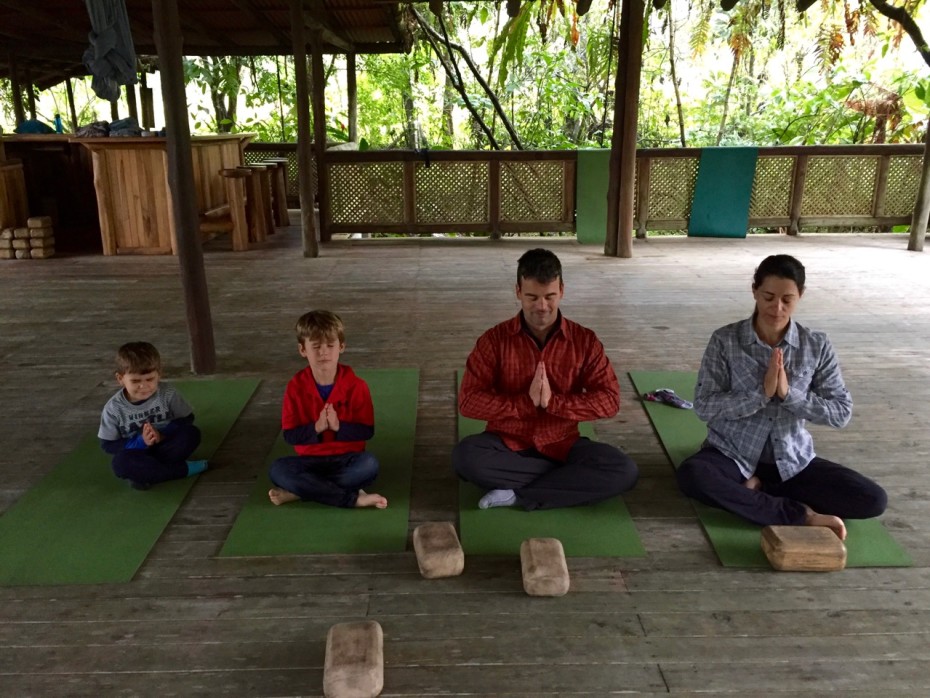 Where are we?