Yesterday, we all did the 18 zip line at Selvatura Park in Monteverde (3.2 KM long). I had not booked with Uniktour for Lohan and for myself because I wanted to start with an easier adventure. As he loved ( and the word is weak ) his first two experiences, we decided to do this one as a family activity. This time, Lohan was not the youngest to do the course. They often had children of 2-3 years in the past. Lohan and Mael were spun at full speed on the zipline each with a guide. It was extremely safe . We are proud of our guys because they love this activity ! They are so enthusiastic that they are smiled and impressed people in our group of adventurers. Lohan with his big helmet, leather gloves   and harness full of heavy shackles was extremely cute!
After 18 platforms, we had the choice to do a Tarzan swing. Lohan decided for the family with a resounding "yeesssss!" He was the first to jump into the void from the top of the platform. Once your harness is attached to the rope, the guide opens a door and throws you into the void. You fall a second or two like a rock before being swung. Lohan liked it so much he has shunned after because he could not do it again! Mael was the second and also had a broad smile. But I, at that time, told Sylvain: "Um… I don't think I'll be able to do it." I felt sick in my belly just to see people go through the door and jump into the void! Yet I jumped twice with parachute, but I must become a wimp as I age…  Sylvain said nothing then jumped, releasing a scream !! At that moment, I told myself that I had no choice to do it because they were all going to treat me like a wimp!!! My pride made me jump without hesitation… Sylvain told me that I made the second loudest scream in our group!! I was proud of myself because I overcame my fear and, in the end, I enjoyed my jump.
Our only problem was the weather… It rained the whole day without a pause with strong, 20 knots winds. Our upper body was warm, but damp and cold from our butts down. Grrrrr!. The canopy view was not ideal as the clouds were limiting visibility and the rain was whipping our cheeks. However, we had a great time and everyone enjoyed themselves.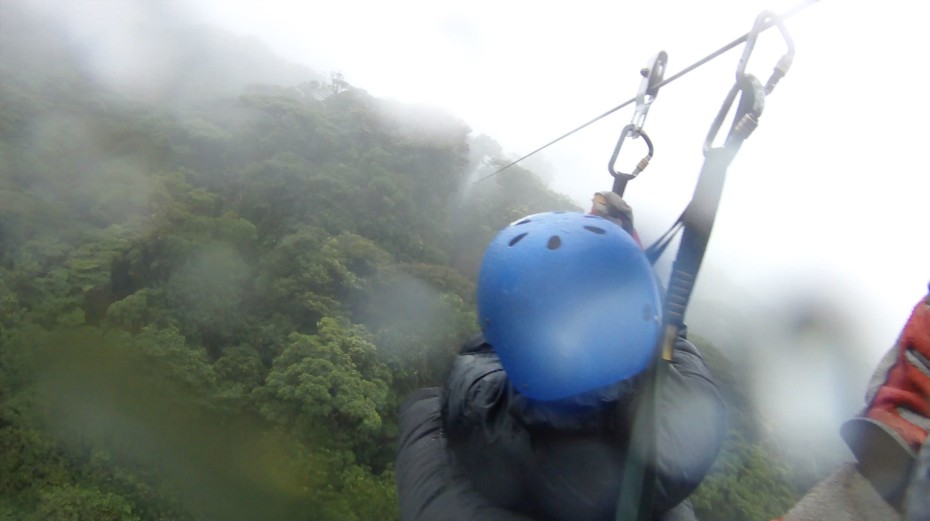 Nobody complaint the whole time with all the action, but we were frozen at the end. We decided to forego the suspension bridge trail and hop on our 4×4 to get back to our hotel for a long, hot shower. We stopped by a restaurant were we could warm up by the fire.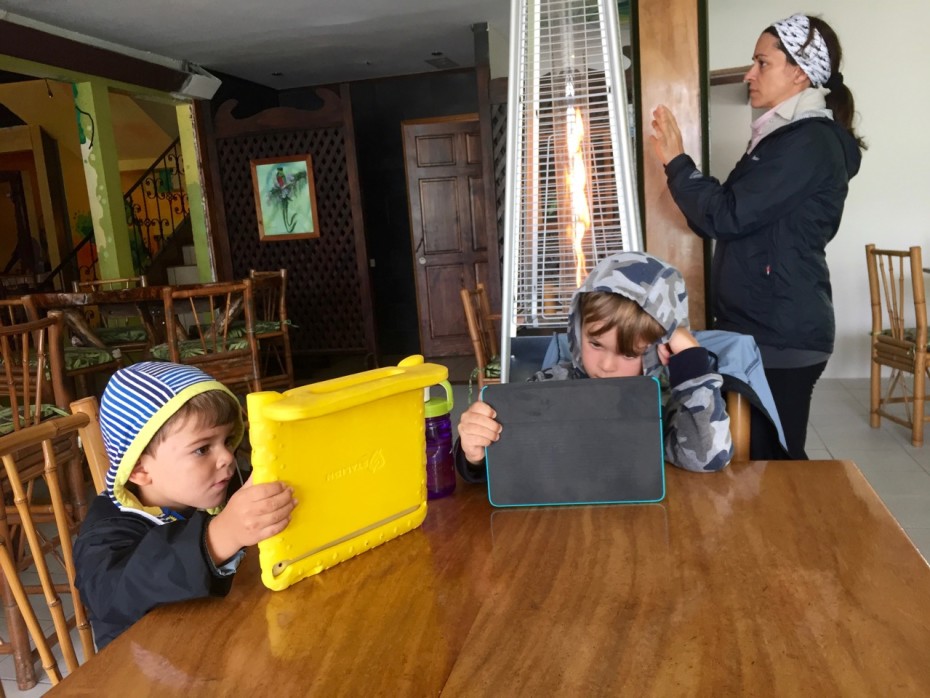 This morning, we returned to Seveltura Park to see the butterfly garden, the reptiles and the insect museum. We had a guide for those visits, Brandon, who was referred to us by Jonathan at Rancho Margot. He was extremely knowledgeable and we learnt plenty of stuff during those 3 hours.
He also helped to to identify certain insect specimens that we have captured, among them the tarantula we caught on a banana tree at Rancho Margot. It is a Phoneutria nigriventer or banana spider. This is the only spider in Costa Rica that can be fatal! What a surprise! We will take another look at it tomorrow with a magnifying glass to have a better look at her fangs. That was a great opportunity to lecture the boys that we need to be prudent at all time with our insect-gathering pastime. The more we are knowledgeable, the less dangerous it becomes. Mael is already becoming quite good to know what can sting, bite, burn or give rashes.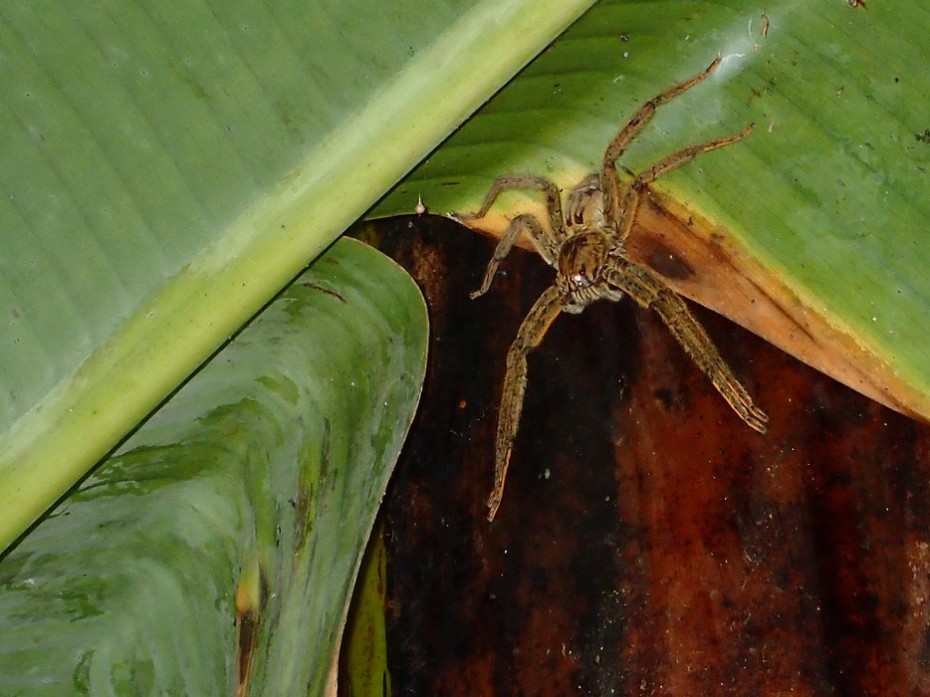 Our best moment of the day was a visit at the hummingbird garden. There were dozens that would circle around the 4 feeding stations. We were just a few centimetres from them and we could feel the air pushed by their wings. Mael, who's always pushing the enveloppe, was putting his hands close to the feeding stations. We tried to tell him to not scare the hummingbird, but he repeatedly tried again until one hummingbird landed on his finger. Wow! We were thrilled to see him interact with those lovely birds. Then, Lohan wanted to try and even if his hand was shaky, he managed to gain the trust of a few of them. Sylvain capture a few pictures and videos that are close to National Geographic's quality. Mael repeatedly said that he was grateful to live such a beautiful moment full of magic. He was sad when we had to leave. We promised to come back the next day, when we would walk along the suspended bridges trail.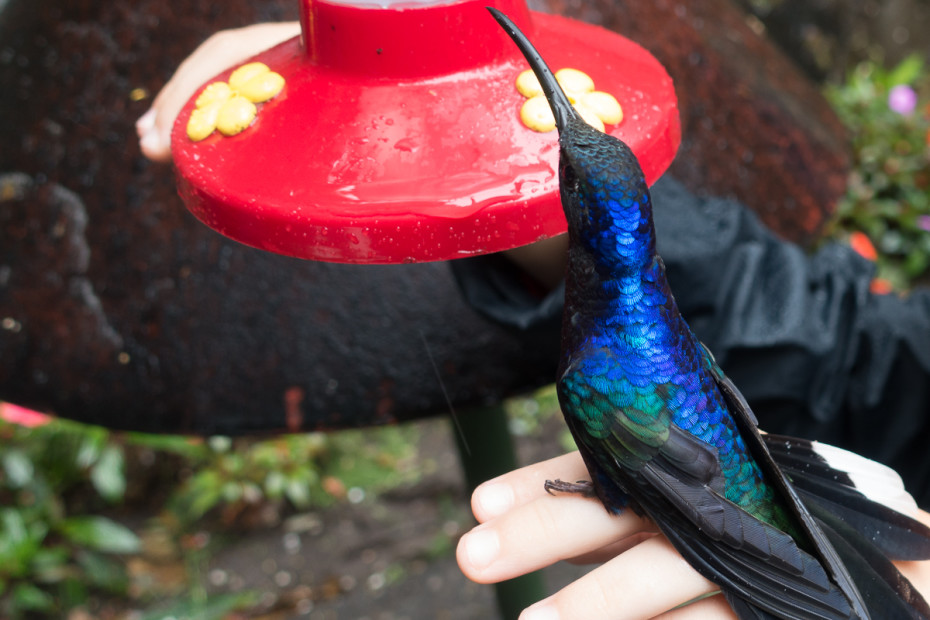 We currently stay in Santa Elena in the region of Monteverde. We are in a nice hotel where rooms are little houses with a lot of charms. Everywhere, there are flowers, plants and multiple fruit trees. We reside in a vast house above everyone else, with 2 bedroom, a kitchen and a bid balcony. The view is splendid with 2 magnificent white horses. What's special is that we are in the mountain with lovely views but whenever we have to get to town, it takes only 5-7 minutes by foot!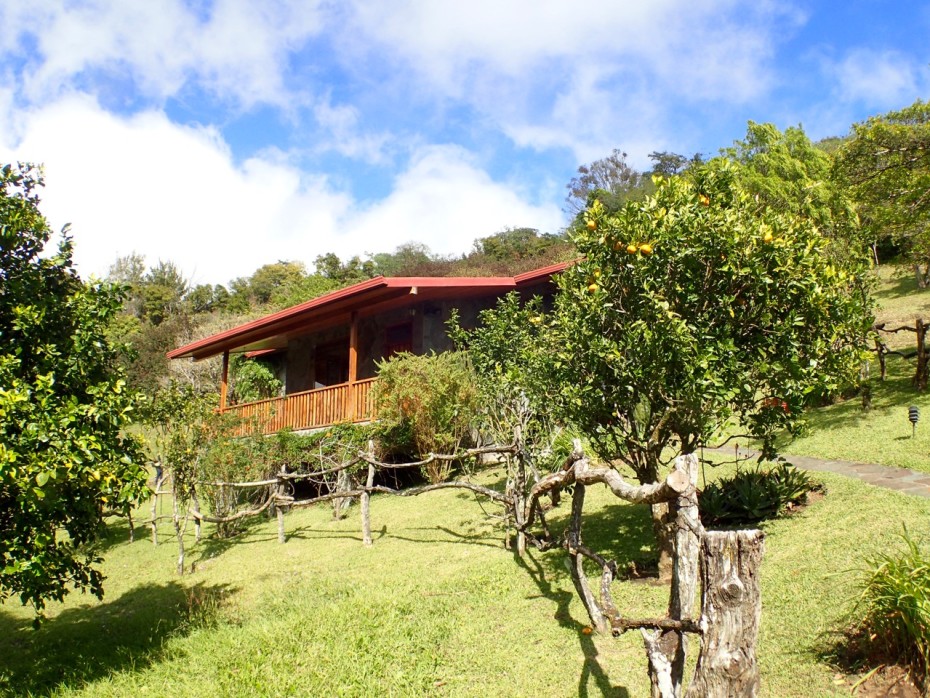 I had some time to write tonight because the boys went to dinner without me. I cannot digest my lunch and I'm not feeling well. I'm trying to get out of it with coal pills, so tomorrow will be better.
The wildlife corner
This is what we have observed here:
Where are we?