My first great ocean crossing solo took place in the Atlantic, to Georgetown in the Bahamas to Puerto Rico. A distance bird 660 miles but with winds at my disposal, I had to do the close (go against the wind), which has extended my journey of 140 miles. I lifted the anchor the following morning of the departure of Sdgsdgsd and children to use a weather window less that perfect, but better than the dominant winds. I have advanced most of the time in bi-energy (sail, motor, Juliana 2 thanks for the term) to keep an average of 7.5 knots with peaks at 9.0.
I brought my apprehension and my fears with me at the beginning of travel and I was able to get rid of some along the way. I have experienced several moments of anguish, but worse is the lack of sleep and undernourishment.  At the end of this navigation, I wasn't able to eat. I wanted no taste… All lifted me the heart and required an effort that I didn't taste to deploy. The boat heeled (30 to 35 knots apparent wind) in the wave of 7 to 12′) has nothing, but absolutely nothing pleasant. I myself often: "I sense do it for fun. But a little voice whispered: and you risk your life for what already? She sent me pictures Dismasting, or collision with a container. Two highly unlikely scenario for which I was not well prepared and which could be fatal to me. Here are a few posts I've written under crossing and shared with my loved ones.
Day 1
Here, it goes well… I adapt to the conditions. The wind is very low, but I have a long swell of 2 meters in the nose. As I motor since 5 pm yesterday evening, it brews in all directions. I really look forward to the sails. At least, I eat well tonight with shrimp in coconut.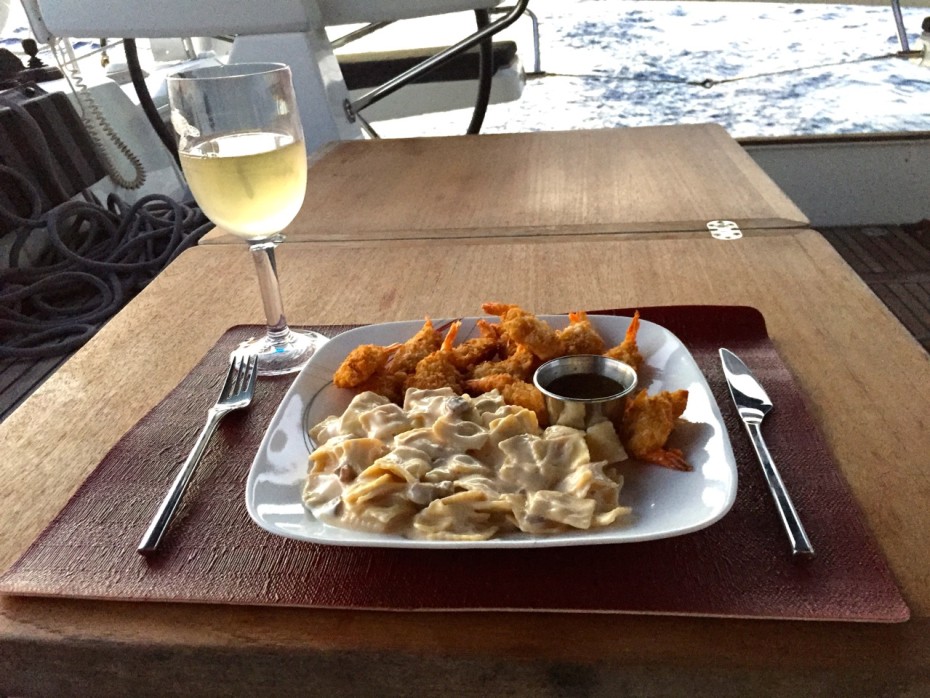 This morning, I fished a small Mahi. This still gives nets for 8 servings!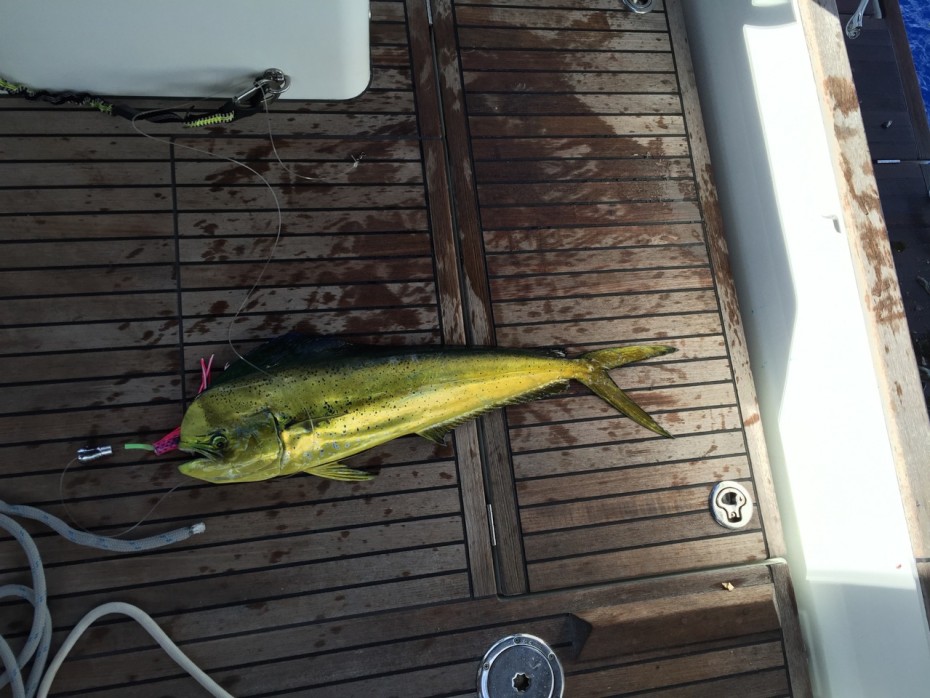 Day 2
Everything works fine until now on board. No damage to report. My big challenge is the management of sleep. I slept much last night because there was traffic and Islands around me. Now that I am on the open sea, the risks are much less important. I would take what it takes to have a good night tonight.
I couldn't go to bed to Mayaguana as expected. The weather promises to be less beautiful for my arrival in Puerto Rico and I'm trying to accelerate the pace to arrive before bad weather. Each hour is precious!
I wrote a text that summarizes my thoughts since I left. It's about fears and what can we do with…
Confront your fears
Do you have already a bad experience that you stressed, angry or scared? What you done then? Retry the experience a second time for perhaps the live differently?
Obviously, the alternative to live the rest of his days with a limit marked in indelible ink does not not part of my personality. I therefore return solo in the same waters where I, for the first time, proven by a fright by boat. In 2010, I get, on the part of a Quebec captain met in the British Virgin Islands, an invitation to participate in a conveyor of a Beneteau 50. Daniel offers me a passage from Puerto Rico to Norfolk at the end of spring, a time of year usually perfect for this crossing.
We take the sea by a calm day without wind. I joke with Daniel by saying that it is really easy this kind of crossing. He told me with a great calm: "We'll see…" Being crew, I had not followed the weather and I do not doubt that other boats waiting to make this crossing would not be left for anything in the world…
Shortly after our departure, we encounter the largest waves I had ever seen. They were relatively compacted (reconciled) and I began to fear that the boat could be lying by one of them. I had seen nothing… We headed straight into a gust of wind (50 knots) and I was soon going to see conditions that I want anyone to meet. One night when I still heart to the joke, my companion of quarter Benoit well made me laugh when he said that he would give all his RRSPs to be héliporter in a warm, cosy and stable bed. I would have taken the same decision…
I can't remember how many days later, but the sea took a form and an impressive size and the sailboat 50 ' was adornment of toy in a bathtub of child. After the passage of the monstrous two (larger waves of the trip), I shared the fear that invaded me Daniel. He calmly told me that despite their size, these waves did not have the strength to topple the boat. Was the encounter with a reverse current to give them power and make them dangerous. He explained to me that he had seen twice as large waves in the sinking of the boat he had built in the Gulf Stream. The lesson that he told me to learn from this experience, it was that the nearly all of the browsers on the Milk Run (round the world by the trade winds) had no experience of this kind of conditions.
I therefore understood that the management of sleep and stress are the only real factors that determine the outcome of the struggle between man and the sea. How many stories I heard about crews who abandon their boat to be killed while their intact boat was found. Sometimes, staying in her crib and do nothing is a valid strategy… This summer, I devoured the books of John Kretschmer, a leading authority on strategies to survive offshore with Hurricane conditions. He advocates an active strategy of management of the vessel in conditions of big and I can only admire his audacity, even if I do not aspire at all to follow in his footsteps.
—–
A clairvoyant told Sdgsdgsd about me, that there is in me dozens of voices who speak constantly in my mind. This cacophony allows me apparently to undertake great things and to carry out, but she was surprised by my apparent calm. She told him that most people with this condition are not able to properly function, constantly haunted all these voices that sow doubt and prevent progress.
I discovered that inside of me, there is a voice terrorized by my experience of the waves aboard Voilo. It tries well to be heard, to prevent me from going further in my experience of offshore sailing. She told me that I almost exclusively sailed in easy areas (Lake Champlain and Bahamas) without meeting real muscular conditions. How do I manage the boat in waves 5 to 15 feet? That the slightest error could eject me from the boat where death is certain.
For months, I understood this passage single-handed, the Bahamas to Puerto Rico. That voice would have liked nailing me in Georgetown, a crossroads in the Bahamas which marks the end of the journey for 80% of the boats that go there. Most of the Americans and Canadian will start from there pointing north the bow. Who ventured to the South is exposed to the sea, the real. Beautiful and wild. It is the end of the protection afforded the Rosary of islands of the Exumas, which makes navigation easy and within the reach of all.
The morning of departure and up to now I have belly knotted by fears: a break I could repair, an engine failure, a waterway, a fire. The waves that surround me now make 6 to 7 feet breaststroke the boat as a washing machine would. It is a long swell I know harmless, but the fucking voice is still present. It speaks to me as soon as I approach the water and howled all – to-the hour when I was kneeling on the quarterdeck for bring the bream in the boat.
If you also have this kind of voice in you, you not prevent to go further because of your fears. I am trying to fight one of mine by a somewhat radical method, but I'm starting to feel pride. Even though still me have 75% of the route to go and that the real test will be less than 100 miles from the coast of Puerto Rico, I have more confidence in the boat and me. I met exactly the goal that I had set to make this crossing in solitaire. Like I said to Sdgsdgsd, I can not lead to much, so I am not ready to face the Atlantic in June.
On this, I have to go prepare my supper… Of delicious fillets of sea bream (which taste the nutty when they are fresh sins) with a bunch of vegetables. And I decreed that I deserves a cream as dessert!
Day 4
Good morning!
I was very happy yesterday when I saw that the battery of the modem had to send you news. (The charger was lost in the boat and all my research attempts have been unsuccessful). For your information, I get every day my weather files around 7:30 am then I connect Internet to 8 am to pick them up. It was at this time that everything that I write the eve is sent. I am therefore still shifted a day in my responses to your emails… At first, I thought I was less restricted, then I plugged me 2-3 other times in a day. Sorry if I seem to not give a lot of news, but it is already a technological miracle that you may have!
This morning, morale is better than yesterday. I feel that the end is near: is tomorrow afternoon I should spend in front of Fajardo. If you look at the sea tomorrow morning and you see a sailboat that arrived from the North, it is surely me!
Yesterday morning, I was rather lethargic tasteless to undertake what whatsoever. I had to adjust the sails regularly to make a close hauled. In addition, an output deck for patching stuff has quite exhausted me… Around noon, when I made the decision to drive South 4 hours earlier than my routing suggests me. This will require me to make an almost a little tighter, but I can earn a little time in this way. In the afternoon, I found the strength to fish: I had found a fish flying on the earlier day and that a bridge had told me that this is the best fishing bait. So I donned a hook in the fish and tried my luck to catch a tuna. An hour later, I find my cane with my completely uncoiled reel wire. I slowed the boat and beats me big half an hour with what turned out be a huge bream. I en even broke my fishing rod pulling to put in the boat!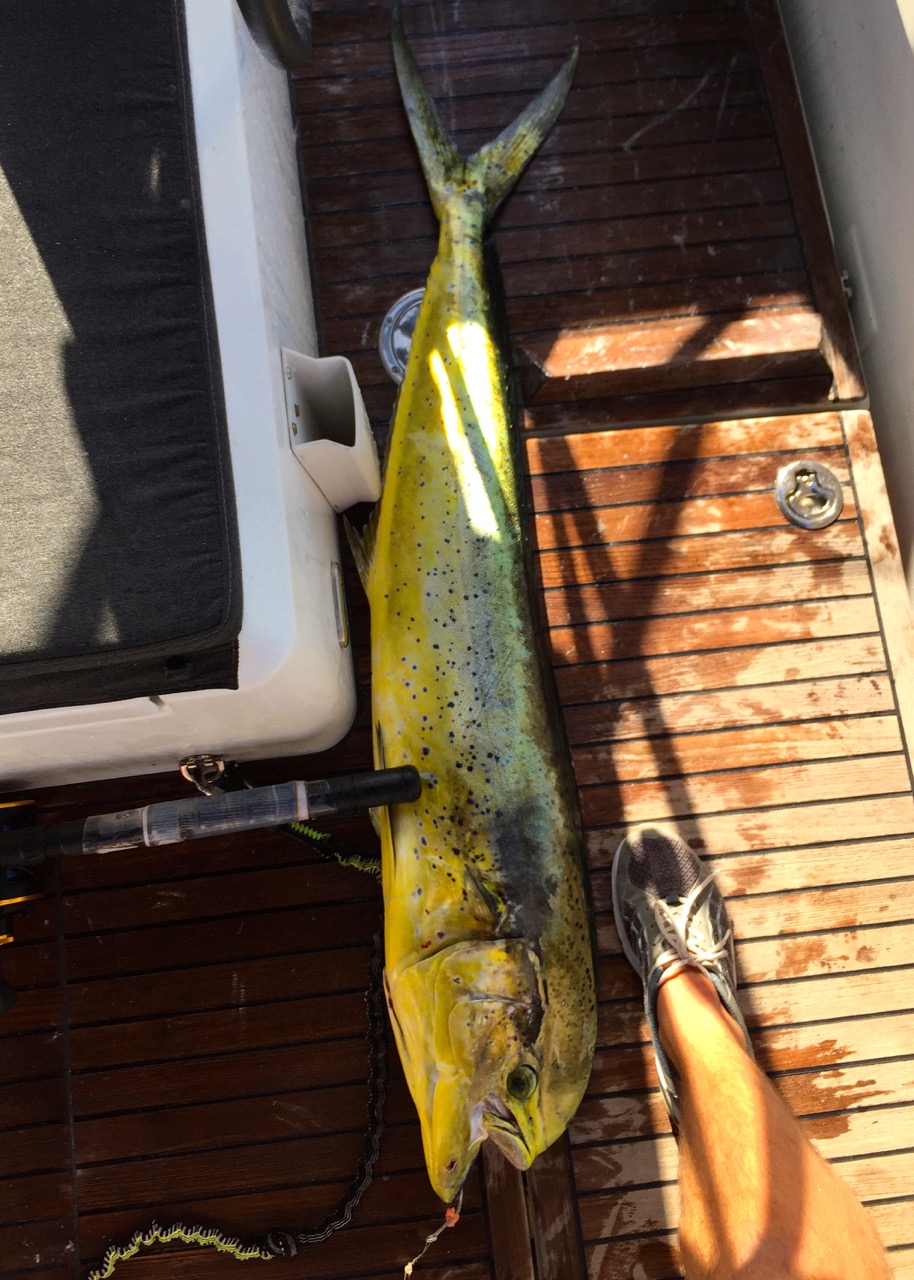 I barely managed to enter fish in the cockpit that I see a U.S. Coast Guard helicopter arrive right on me. I'm more than 250 miles from the coast, then they are at an hour's flight from the Mainland! Whoah! It in fact of the way to make two circles around a small sailboat! Not wanting to make big Hi lest they believe that I am in distress, I put my feet on the gills of the bream to avoid that it kicking too in the cockpit while I'm sitting behind the steering wheel.
In the evening, the wind has shifted as expected and I now of 25 knots gusting to 30. These conditions will follow me to the finish.
The boat is holding firm and me too. I eat much less than at the beginning because the stomach full, I have difficulty to digest. I drink a lot of water however.
PS: There's action this morning! Reefing broken (repaired), cruise ship that passes next to (0.5 miles), grains that send me wind of 35 knots gusting to 45 with a few waves of 20′. I keep my infernal pace to 8.5 knots with engine, staysail and large sail with two reefs.
Tonight, morale was at its best and here is the best time of my journey:
https://Vimeo.com/123912982
Day 5
Good morning!
My e-mail arrives a little later this morning because I was entangled in grains (x 3). With 40 knots of wind and the consequent waves, my progress was almost arrested. I left for about 15 minutes and if it continues, I'll pass the North point is Puerto Rico around 1400. From there, it is about an hour to get to Puerto Del Rey. It is in this marina my me unless otherwise advised by your share. As I still have not found the charger of my satellite modem, I use my battery last electrons to take my emails. I'll nevertheless try again around 1400.
I have ben ben eager to arrive. I am in a State as dismal as the boat. Worn, without hygiene but few bobos. I spent a sleepless night so I want only on adrenaline…
I can't believe that I'm tighten you in my arms in a few hours! Last night, I was listening to soldier Louis: "rum, women, beer name of God, that's what makes happy"… It summarizes not bad what would make me happy! Arrive in time for a ti ponche, find your beautiful hot body and take a good dinner stroke a cold beer!