Our hotel in León is the Flor de Sarta. The two owners, Benjamin and Sandrine, are absolutely exceptional. They had set out to find the best doctor for Papy when we arrived and after, their generosity was boundless. They took several hours of their time to serve as interpreters with nurses and doctors, have facilitated the procedures of all kinds and generally spent a few hours each day to help us. Unfortunately, many guests experienced health issues during our stay: Papy enters the hospital, Lohan catch a gastroenteritis, our neighbors spent an evening at the emergency for insecticide poisoning, a Quebecer has a bronchitis that turned into pneumonia, Mael gained a parasite in his digestive system, I had to get back on antibiotics because of respiratory difficulties and finally, the hotel owner who woke up with his back covered with unknown redness.
Our first night in León was rather hectic. Lohan got things moving with a big vomit while sleeping… After I got rid of some lumps in his bed and reinstalling him at the end of the bed, he vomit again on the floor. He has a fever, but fortunately managed to get back to sleep easily. Then the children, in turn, wake me up because they are afraid or need help to go to the toilet. With such an awful night, there's no way we're going to have big activities the next day! I plan my agenda while Sounda will spend the day caring for her dad. I'll take the kids and we'll stroll slowly toward the central square where the kids loves to run and make the pigeons flee.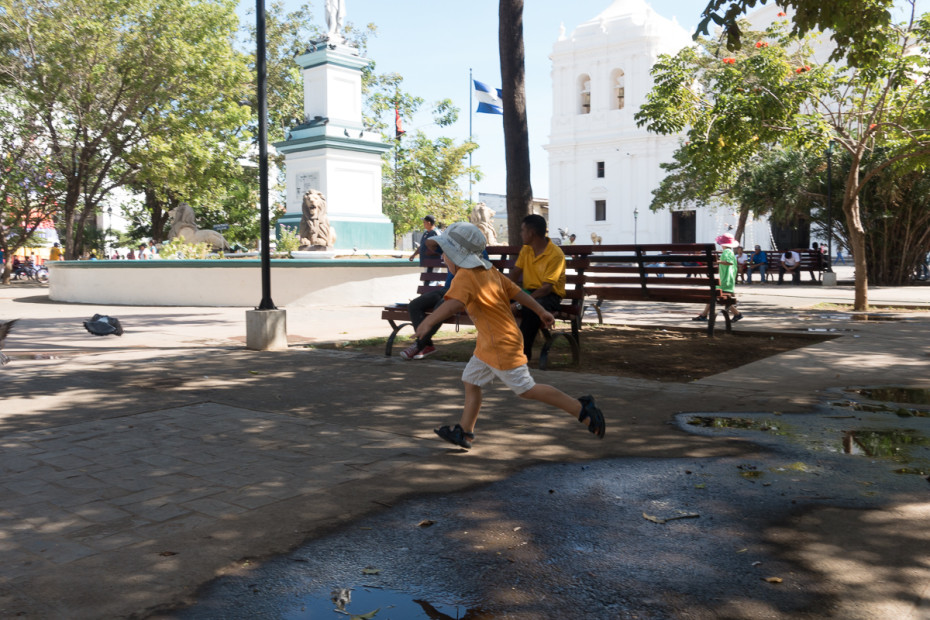 To find us a snack, we get to the city market where the kids are a little horrified by the presentations or certain elderly… I take advantage of this opportunity to highlight the differences we witness in the world. It is important not to judge, but to appreciate what you can learn from the differences. The displays are not inviting but everything is fresh and farm by hand, without chemicals. Older people are wrinkled and toothless, but their smiles and sneering eyes are signs of a great personality full of goodness.
Excursions for the next 2 days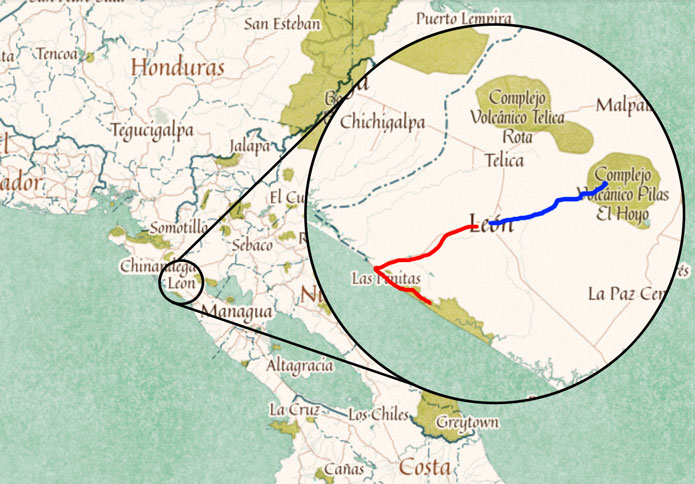 January 21 (red route)
We find our favorite guide, Marcos, for a day along the Pacific. We go to Las Penitas to board a boat that will take us to the heart of the mangrove. An inlet of about twenty kilometers long created a unique ecosystem to observe all sorts of animals. A passionate guide explains that he is a volunteer for replanting mangroves to offset losses caused by hurricanes.
We make a stop to see their efforts to help turtle populations. We had the incredible opportunity to visit the site on the day of the hatching of a group of eggs and thus witness the first 24 hours of life of a turtle. Did you know their first day is spent buried in the sand and eating the nutrients of their own egg? This energy will help them survive the first days of their aquatic life.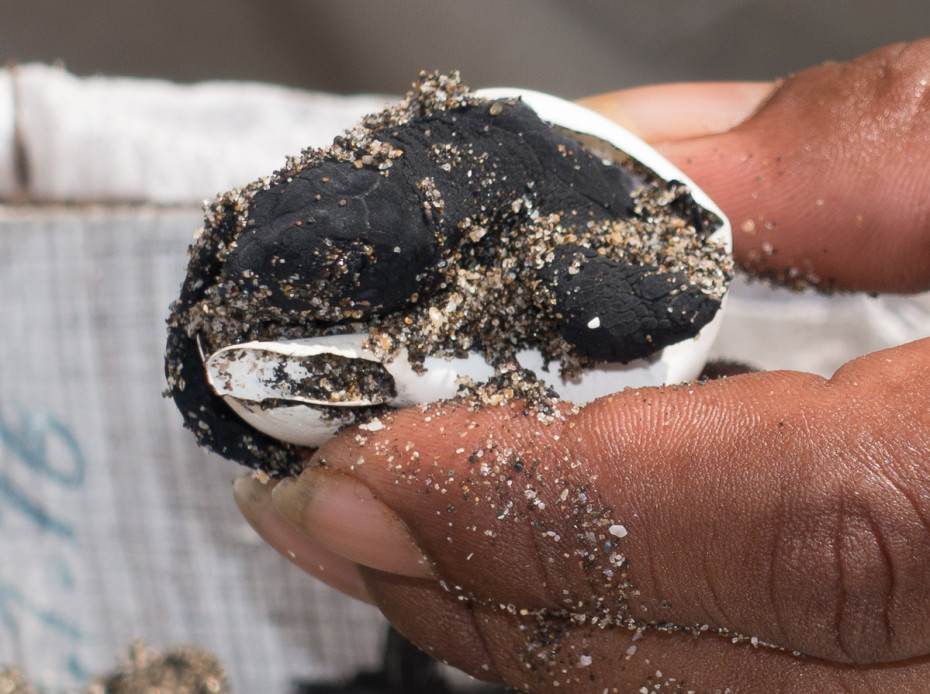 Back from this beautiful tour, we finished the day with our first swim in the Pacific. What was our surprise to experience how warm was the water!
January 22 (blue route)
This third night in León was the one Mael vomited several times during the night. His woes continued in the morning with persistent diarrhea. We had planned to go as a family climbing on the Cerro Negro volcano but ultimately, we decided it was best that I go only with Lohan. Marcos joined us at the hotel and after an hour on the bus, we arrived at the base camp. Lohan was impressed with the caged snakes. Most were boa constrictor and were there because they had bitten people. Their bite is harmless, but the rangers are not taking any chances with the amount of tourists visiting. Lohan witnessed the aggressiveness of the snake that arrived on this very morning. When passing near his cage, it attempted a lightning attack and was stopped by the bars of his cage. Lohan jumped (and me too) to the speed of the beast!
When I looked at the top of the mountain (height: 2388′) and then toward Lohan ((height: 3′), I began to have doubts about his ability to succeed in this expedition. I was armed with powerful weapons for motivation (a lollipop and some honey sweets), but still… It would be a challenge not only for him but also for me. My pride will be put to the test, because I knew that I would have to carry this weight of 45 pounds on my shoulders for some part of the climb. And my job of being a dad is not quite conducive to being exercised and fit…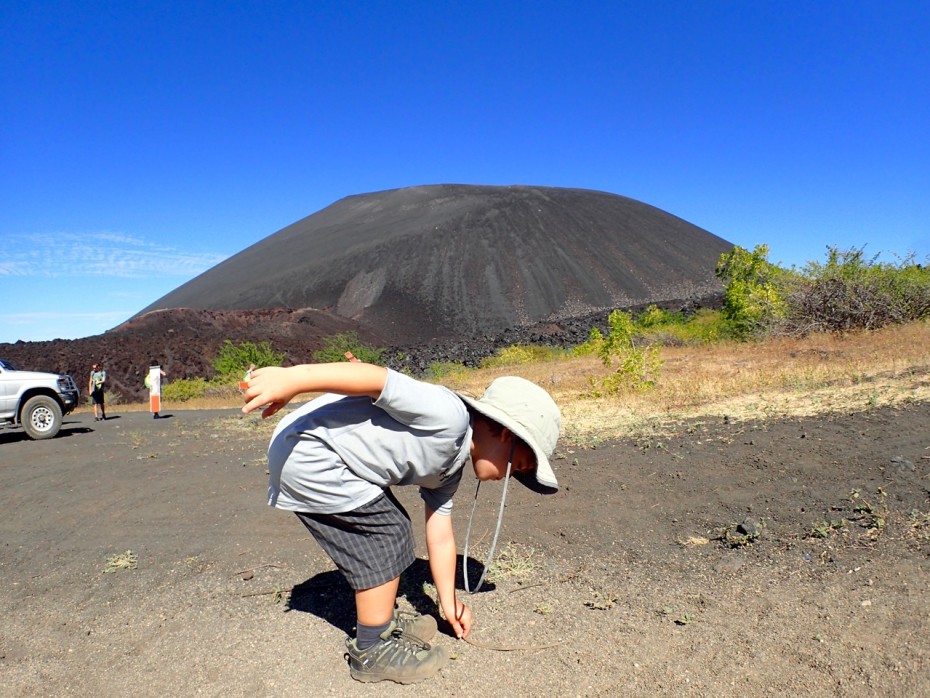 Eventually, after much laughter and tears, we succesfully attain the summit. I was really proud to be there, gazing around the top of the volcano with Lohan. We saw a mountain range to the north, the Pacific ocean to the west, the sulphurous fumes down and Lake Managua to the south. Two groups of young people in their twenties passed us, panting, during our ascent. They came up with their toboggan sand and preparing to make a memorable descent (and a bit dangerous) from the sandy side of the volcano. They were a bit surprised to see a small kid they make the same trip!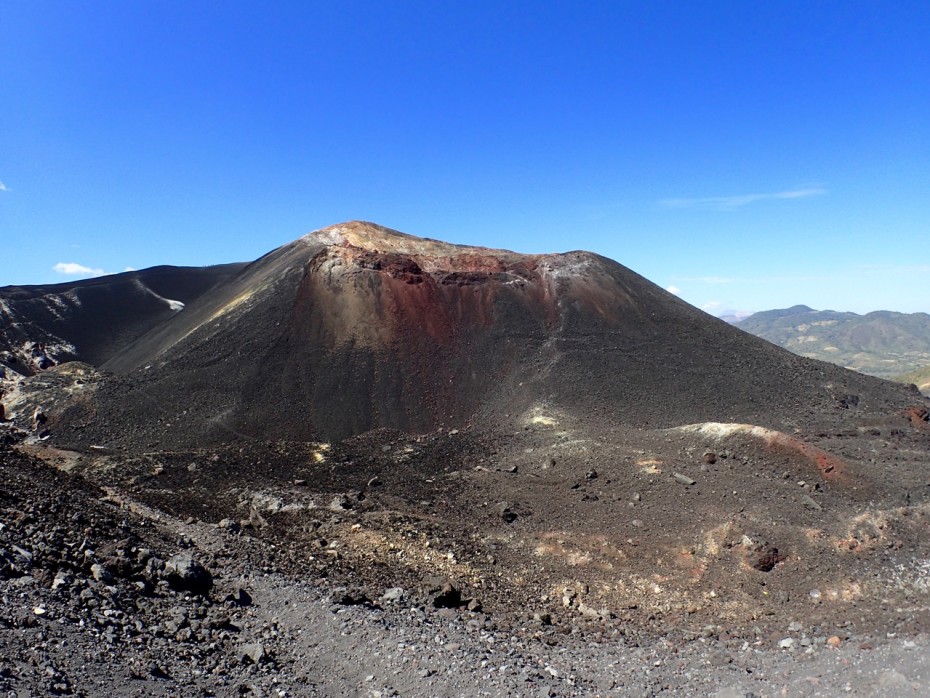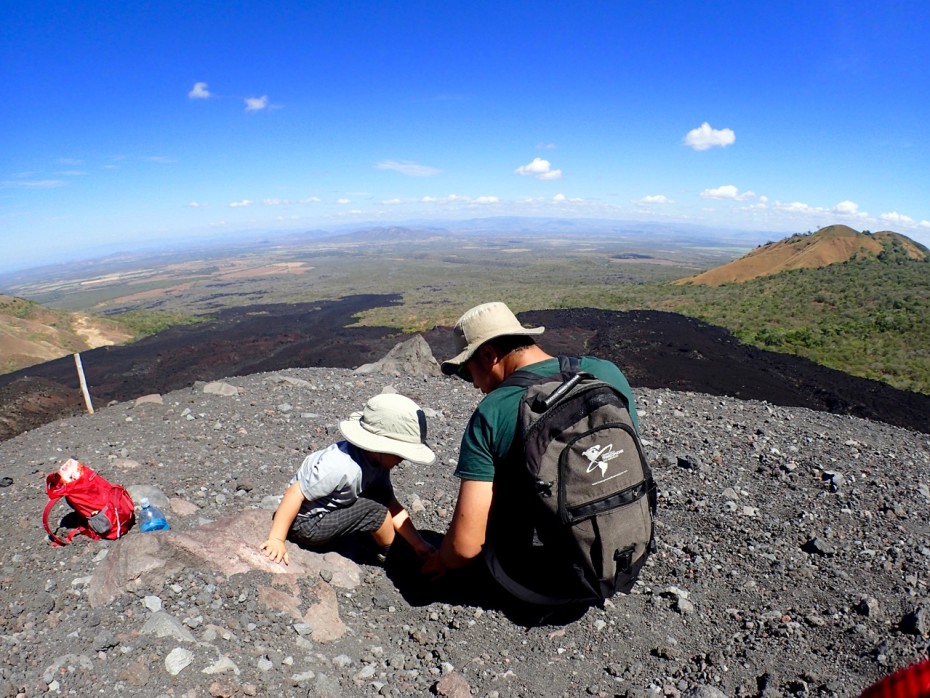 The highlight of the day was the descent of the sandy side of the volcano. The very steep slope allowed us to jump and take run fast. Slowing down was a funny experience, because the only thing we knew is that it was going to end up in a cloud of dust. So we finished feet first, head first, somersault and all other intermediate positions. We laughed so hard during this descent that this was my best moment of our trip to Nicaragua.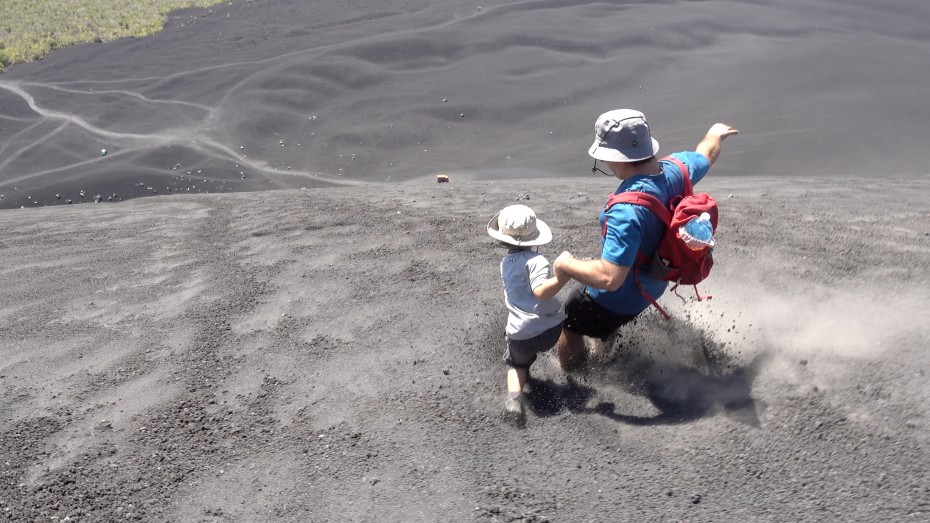 Meanwhile, Mael saw a doctor at the hotel. He required a stool analysis which revealed the presence of a parasite in its digestive system. He was put on medication to eradicate the intruders. By late afternoon, Sounda told me that his father was a bit exasperated. His doctor treats him with love and shows a lot of affection. A little too much perhaps. He replaces his misplaced hair, dry his tears, ensures that his nose is not running. The next morning, he personally inspected and cleaned every bit of Papy's body… What an attentive and dedicated service from a doctor !!!
23 January
This morning, t's the day of our splitting. I leave with the children while Sounda remains in León with her dad. Before departing, we made a stop at the hospital to see Papy, whom me and the kids have not seen for four days. It was in rather bad shape, speaking very low and the slightest gesture was a big effort. Mael and Lohan said their goodbyes, which were moving and warm. We then took off for volcano Masaya . This is probably the most accessible active volcano in the world, because the road leads us directly on the edge of the caldera. From there, one can clearly see (and smell) the sulfur dioxide cloud escaping from the vents. The geology of the area is fascinating and I would have loved to stay longer, but the empty stomachs of my little wolves have cut our visit to this place extraordinary.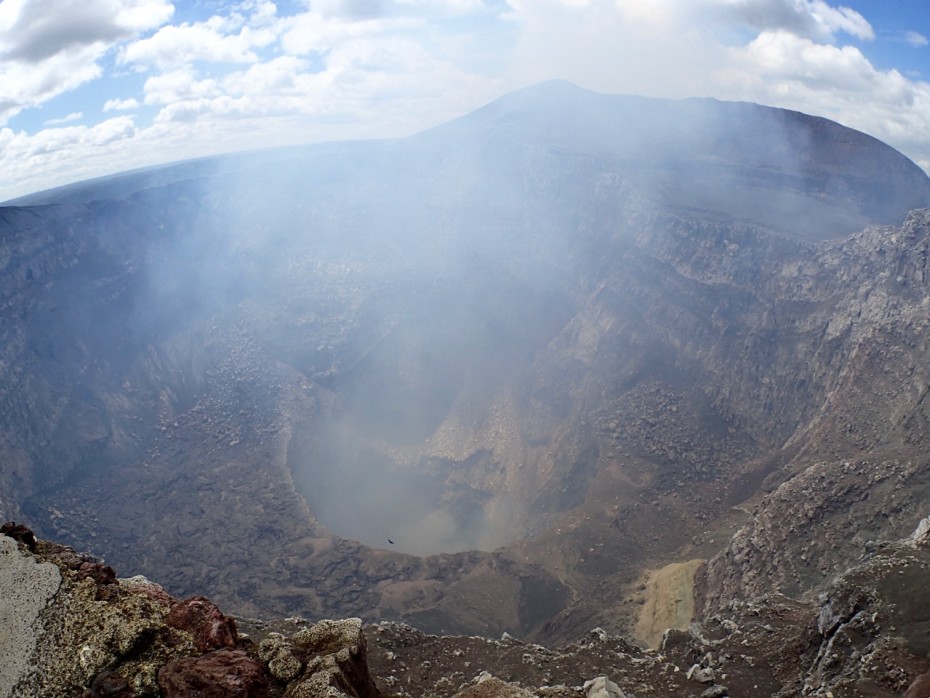 We returned to Granada and by chance, we arrived the day of an annual show organized by a guy from Quebec! Fire breathers, dancers, musicians and marijuana were on hand to the delight of young adults (local and tourists). But what was most appreciated by Lohan and Maël was two small paper airplanes … Happiness is really made of little things …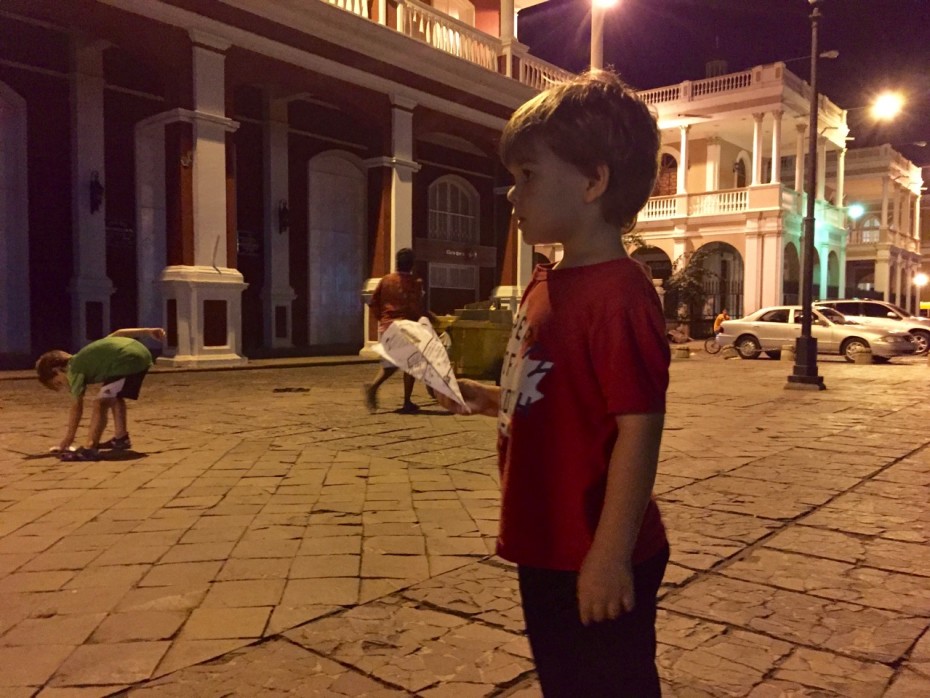 About Papy Jean
After reaching a new low when we arrived in Granada, Papy's health began to stabilize and improve. Sounda was in contact with doctors and specialists friends in Quebec, which allowed her to monitor his health and comfort at all times. She coordinated his repatriation to Canada with the insurance company, who sent a nurse to escort him all the way the Pierre-Boucher hospital in Longueuil. He is still there at the time of this writing.