Today is our longest drive in this trip to Nicaragua. Sounda started her day first by bringing her father to Granada for a blood test because his wound continues to ooze. The plasma loss is significant enough to worry Sounda, who wishes to have a blood test done to better interpret vital signs. Meanwhile, Mael found a unique specimen of hairy caterpillar.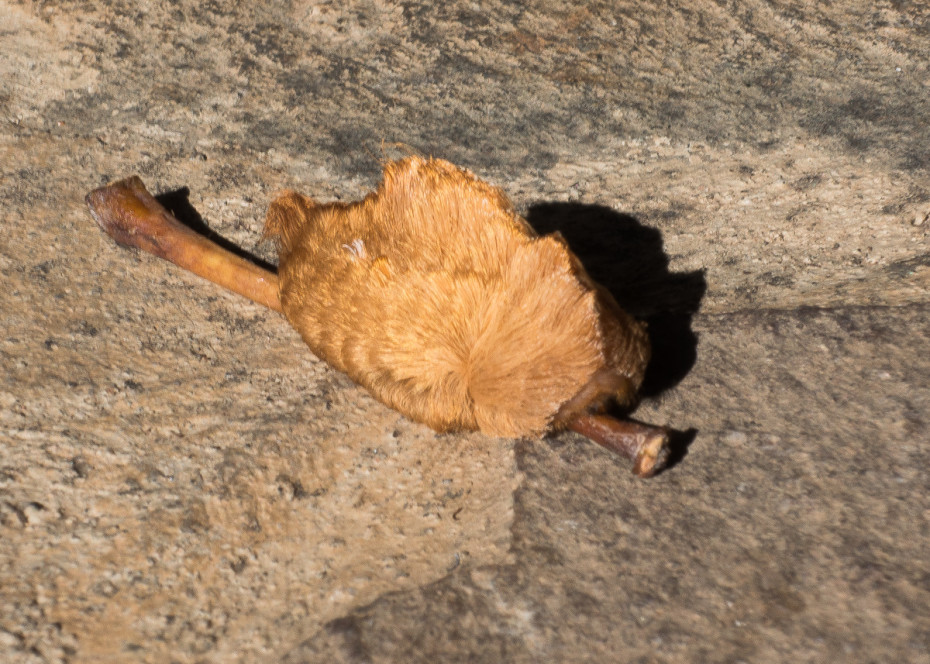 The blood test done, we are heading towards an eco-lodge perched in the mountains, in the heart of a coffee plantation. This is the perfect time because annual harvest of coffee beans are happening now. We therefore will know more about this manufacturing process. En route, we stop in a small market that sells trinkets and a small museum that presents some pre-Columbian artifacts.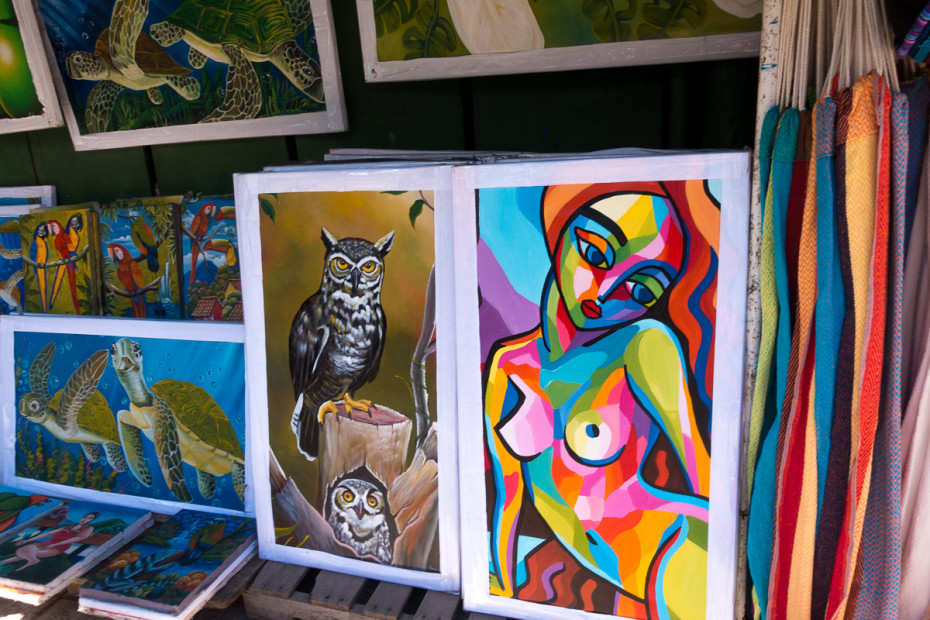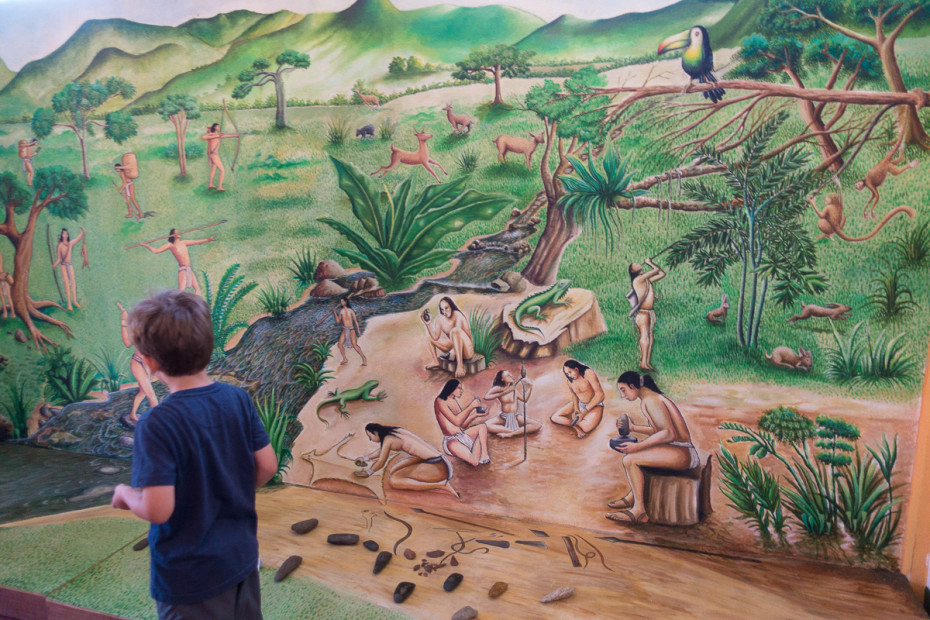 January 17
I got up with springs in my boots to paraphrase Georges Brossard. It was 6am and I did not want to miss anything of the day! I came out thinking it was time for the birdwatching walk . Unfortunately for me, I was an hour too early. Bah! So I tried to find a big cochon for Mael. (A nickname affectionately used by Mael and Georges Brossard to designate huge beetles.) I did not know where to look, so I was looking everywhere and finally found nothing. I must definitely get more information on how to catch one for Mael… The sunrise was beautiful.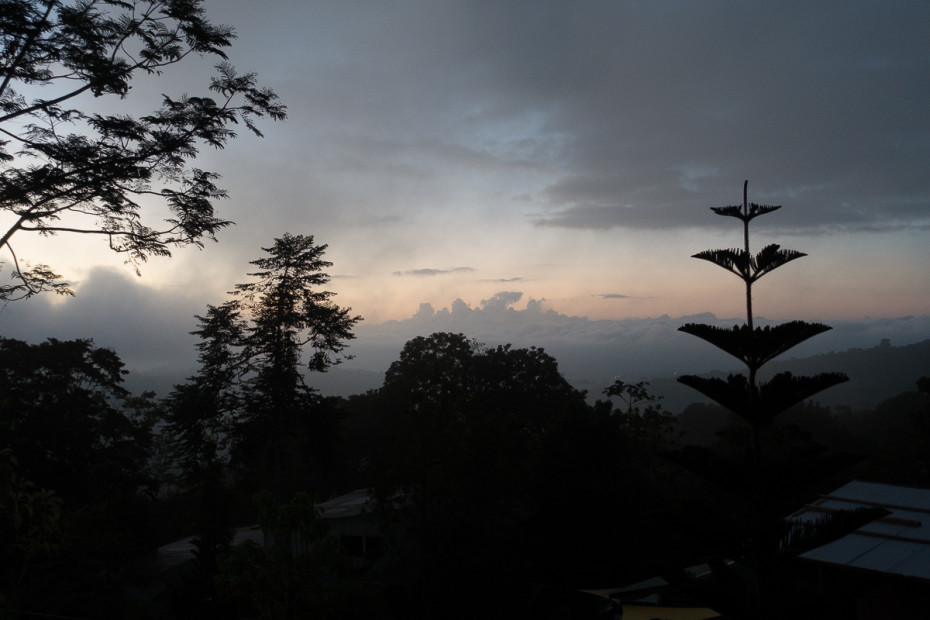 At the scheduled time, however, I made a nice walk in the forest and coffee plantations to observe hummingbirds, weavers, parrots and toucans. Mael was so happy to finally be in the rainforest that we had no other choice but to chase butterflies the whole day. Our insect harvest was interesting with several specimens that I'm looking forward to identify. I've injected them with alcohol and I'll dry them up when we are in San Juan.
In the afternoon, it was Sounda and Mael's turn  to go for a walk in the forest, while I stayed to entertain Lohan. We then went for a family hike up to a waterfall (with a rather steep hill) where we took some beautiful pictures.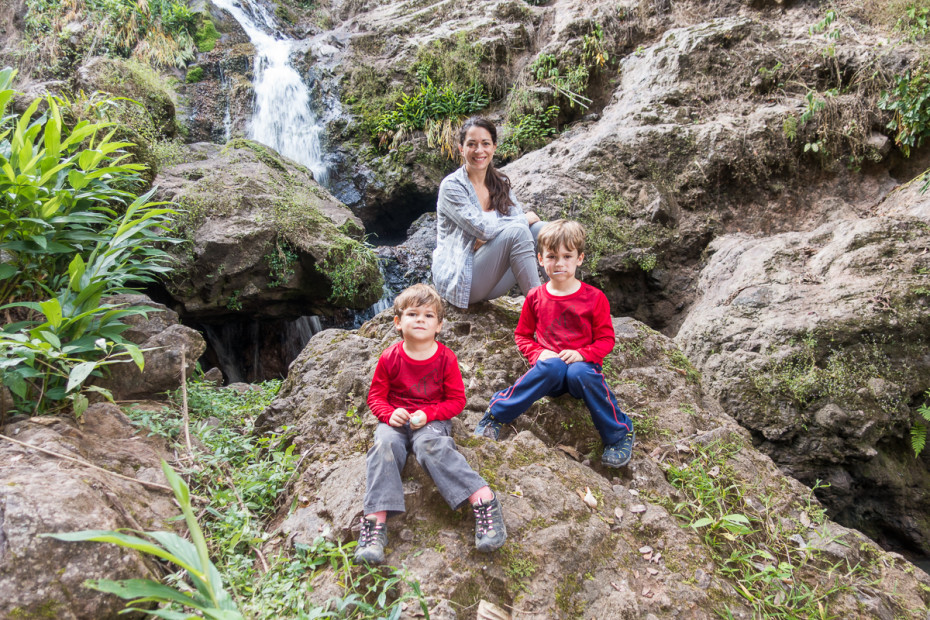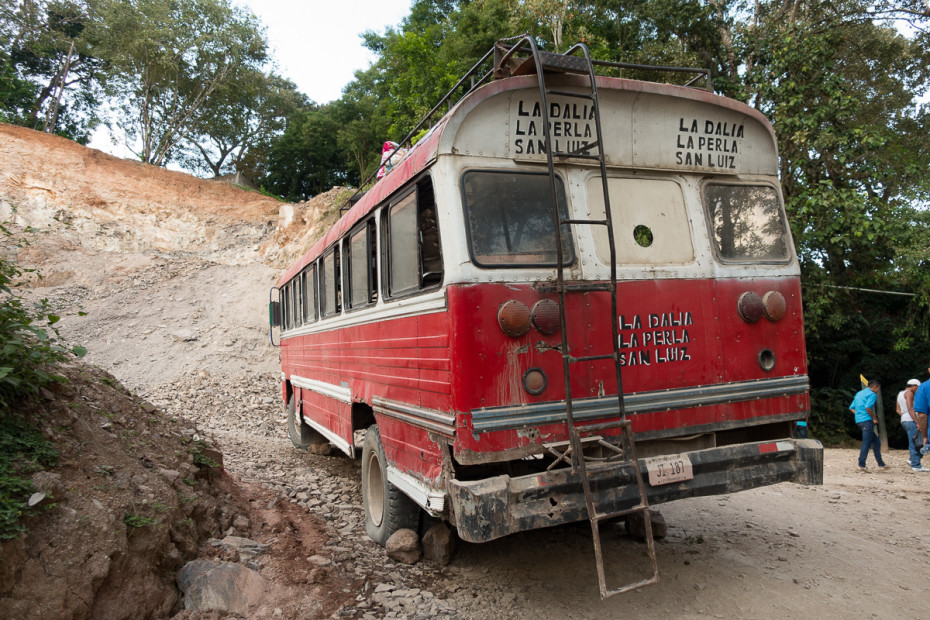 When we returned to the hotel, I asked if we could use the zip line. They agreed to open it for us. Mael was well pleased (he had made in May at St-Martin), but my intention was rather to initiate Lohan. As more fearful by nature, he did an about-face when hang on and I did not insist. After removing his harness, Mael got so excited to have Lohan's turn that it stung Lohan's pride and asked me to retake his turn. I agreed (to the disappointment of Mael) and so, our little after 3 years lunged into space, on a zip of 80 meters. That was definitely the highlight of our day! Congratulations Lohan! Upon his arrival, he confessed that he was a bit scared, but he kept saying "Too cool !!! Again!!!".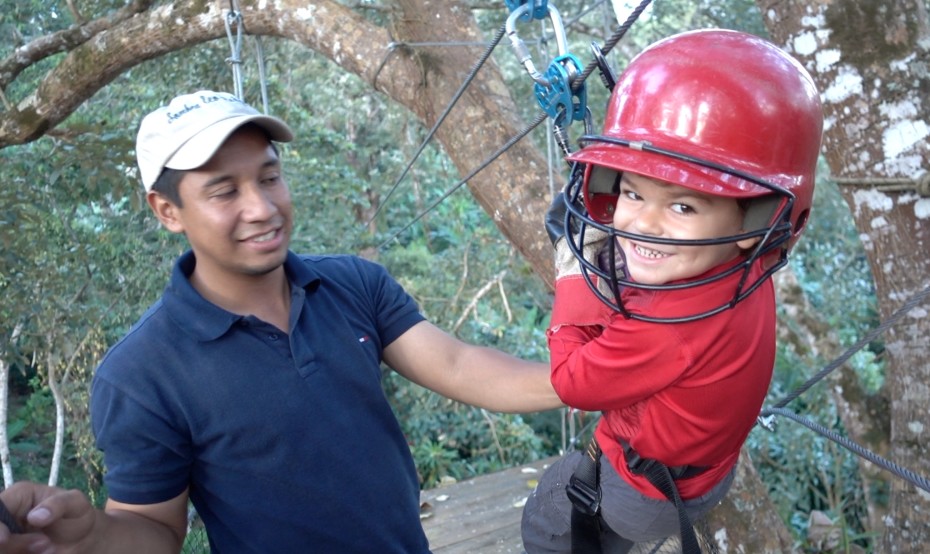 In the evening we had our first encounter with absolutely fascinating multicolored tree frogs. The busy day ended with Nicaraguan music rhythms, around a fire with some marshmallows …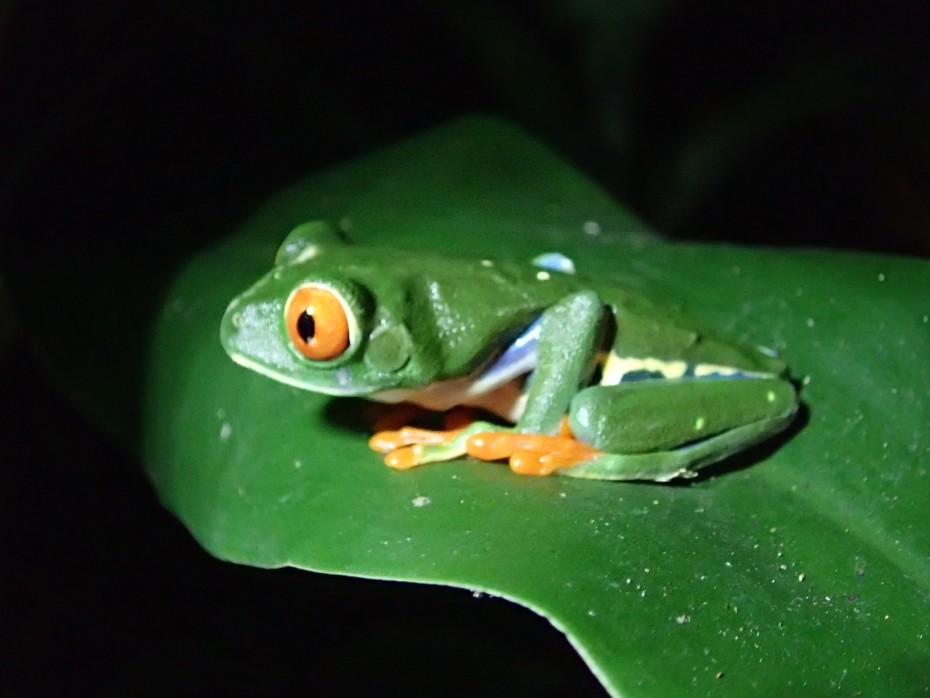 January 18
Today is another day on the road. We leave our eco-lodge in the mountains to move to the city of Estelli, north of the country. We left early but Mael used his last minutes to catch one of his favorite insects: a praying mantis. She quietly devouring a butterfly when she was pulled accidentally by the net of our fighter. With all his excitement, he forgot his insect net at the hotel and we received a call after about fifteen minutes after having left. It took a few moments to find a solution. The hotel was also seeking the key to Grandpa's room, which was incidentally in his pockets. So they sent a clerk on a motorcycle to meet and exchange the valuable items …
After a stop at the drugstore to restock our pharmacy furnitures (Sounda changes several times a day the bandages on her father's leg), we stopped at the market to buy some bananas and a pineapple. I would have loved a big, riped avocado, but unfortunately, this is hardly the season. We hit the road for what seemed endless. Finally, after an ascent on a rather bumpy dirt road, we ended up on an organic farm where our dinner waiting for us. A delicious grilled chicken on fire with vegetables! What a feast! With rejuvenated children, we have been able to climb the neighboring mountain which offered a breathtaking view of the surroundings. Even Lohan has rising up to the challenge and we must say that the prospect of finding a lollipop forest at the top gave him the motivation to overcome discouragement. His sparkling eyes were not disappointed when, under a bush, found two sweets to harvest.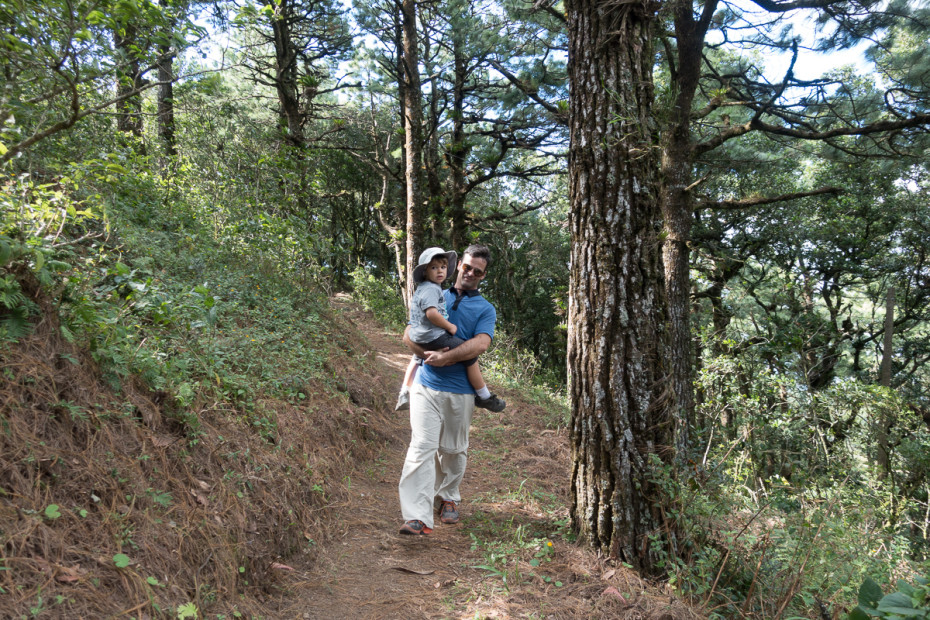 We then went to Estelí, an important step city for exchanges between Managua (Nicaragua) and Honduras. I found many similarities with Drummondville in Quebec. There are some attractions around this city that I would have love to do, including canyoning, but nothing that could please our entire crew. Instead, we ended the day with a brief visit to a house where two cigar rollers showed us their expertise.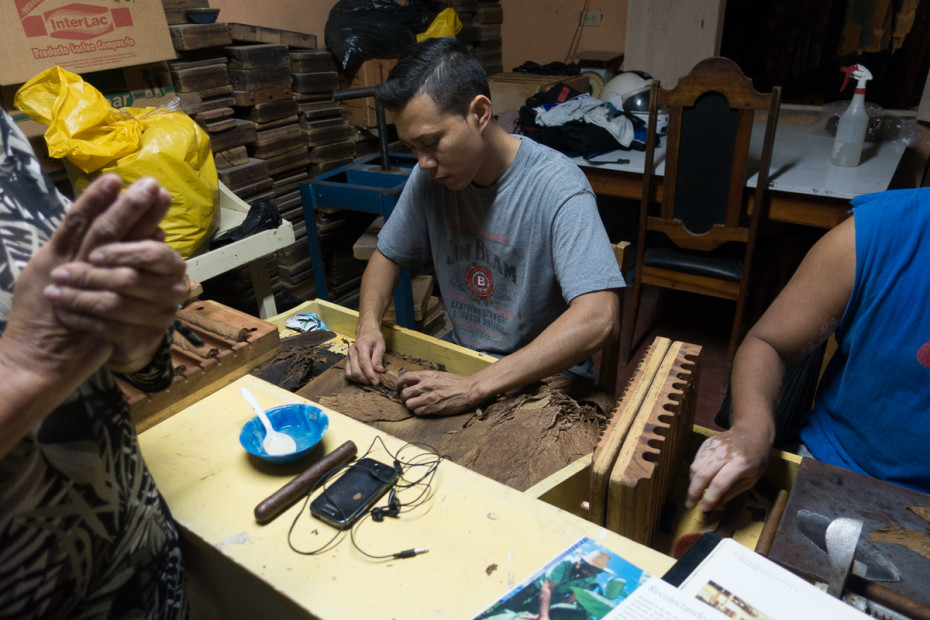 Our evening meal was taken in a typical restaurant serving local specialties made from corn. We all enjoyed the sweet aromas of every dishes, and we liked the exuberant owner that combines the talents of restaurateur and soapstone sculptor. The restaurant is littered with small statuettes of big, fat women. Grandpa asked if there was a connection with Buddha, which opened a discussion on the representation of the ideal woman. We can say that his fetish is in the plump forms and huge breasts!
January 19
We have to quickly leave Esteli in the morning because the health of Sounda's father deteriorates rapidly. His injured leg is still very swollen and starts to become painful to the touch. His legs and hands are starting to turn blue. His personality is different too, all signs that require that we put him in the hands of specialists. Arriving in Leon, the owner of our hotel informed us that he contacted a cardiologist friend in France, who is familiar with Nicaraguan specialists. He referred us the best he knew and it wasn't long before he was seen by a cardiologist. It was time, as his pulse and pressure were at half of normal. It was transferred urgently to the hospital and remains under observation in intensive care. He will likely be repatriated to Canada as soon as his condition stabilizes.
Sounda stay beside him while I take care of the kids. The hotel is an oasis of tranquility in the heart of the city. The pool offers a great playground for children and we have everything to be happy and finally slow down. The last days were filled with many activities, walks in the mountains, road trips, rising up early and staying up late. We will recharge our batteries for the coming days.