We are currently on the biggest ship in the world: the Allure of the Seas (1187′)… Quite a change from our 50′ sailboat! But what exactly led us there?
A few months ago, we were looking for a good way to spend time with my parents, especially because I hadn't seen for a year. We were reviewing all options (villa rental, all-inclusive resorts, Disney, etc.) and each possibility brought its share of problems. Until Sounda brought the idea of going on a cruise ship… Yes, why not? There is a kid's club (for real vacation), restaurants to take a break from cooking, and many other activities instead of just roasting on a beach…
Remained to convince my mom… Almost an impossible task. So I decided to book everything and announce them at the last minute! The weeks passed and I had to ask them to book their agenda for 8 days, and eventually I had to reveal the details… They had to know what to put in their suitcases before going to Florida!
On our side, we left the House on December 10. Final preparations were intense and fortunately, several people helped us with the kids. Leaving was a matter of preparations, not only for packing suitcases but also for all the details that were important to us: additions to the blog (travel, English translation section), changes to the home automation system and the technological choices for land travel.
Logbook
10 December. Departure. It is the frenzy of the last preparations. Children are super excited. We were fortunate to arrive 3 hours in advance at airport for all the little events… Like Lohan that sudden craves peeing between security and customs. However, both of them are as happy as we are for this upcoming trip!
11 December. Finally arrived. The pressure falls. The weather is superb and we spend beautiful moments in the pool. We even enjoy a some time on the beach. Sounda asked for a recommendation for a vegetarian restaurant, which proved to be not a vegetarian at all. However, the food was excellent.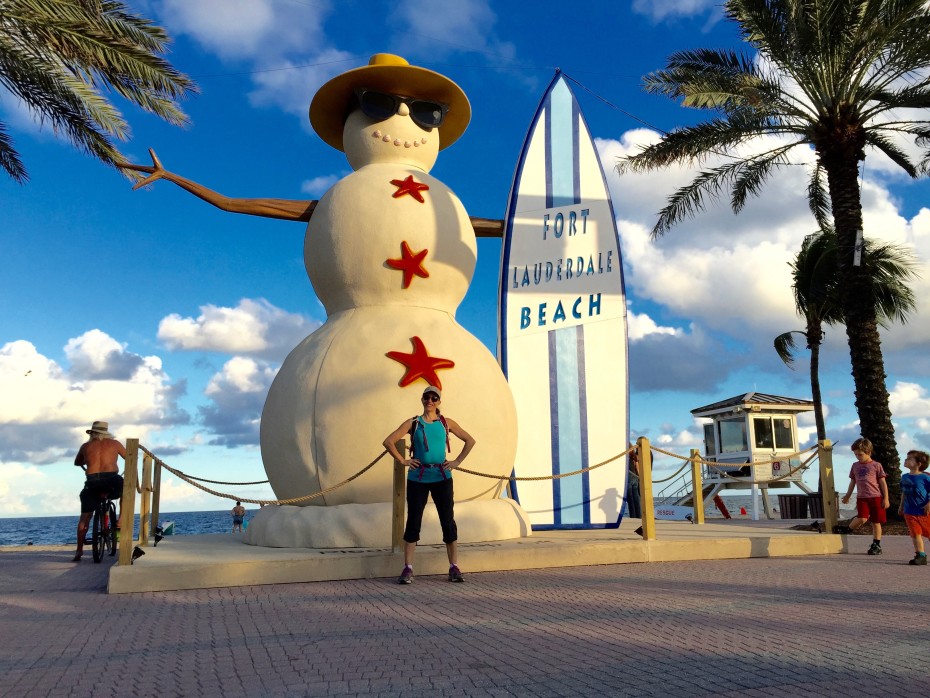 12 December. Lunch with my friend André. After Sounda went exercising while I went out with the boys on the beach. My activity of the day was helping conveying André's catamaran (Panorama) from the yard in Dania to his marina in Hollywood. In the evening, we had the privilege of seeing the parade of illuminated boats from our hotel balcony.

13 December. Children wake up at 4:30. Is this excitement of the boarding day ? We received the visit of a Santa Claus Elf (along with a little trick). We took this opportunity to make a long session of school: full of high and low (discouragement) along the process. It is painful sometimes… After, direction Port of Fort Lauderdale for embarking on our cruise.  The process went going well, but we felt a bit lost. There's no formal reception or people who guide us properly. We must therefore discover by ourselves the inner workings of the boat. The general impression is summed up with: "Wow!"
14 December. Day at sea. Breakfast with Dreamworks characters. We discover every corner of the boat, which constantly impresses us. The food is excellent and the staff of boundless kindness. We played in the water games and I had the chance to attend a musical about ABBA, of exceptional quality.
15 December. Stopover in Haiti. Short excursion on land in the morning. During the family nap, I had a chance to read a chapter of a book. Then I went back on land with my parents to visit the facilities on the beach.
16 December. The boat arrives in Jamaica. I had determined that we had nothing interesting to do there, so we stayed on the boat. Maël went to the kid's club at around 9:30. Sounda went for a bit of jogging. Around 11:00, we had a Flow Rider training session. Very cool, but a little hard for the legs! In the afternoon, during the siesta's Sdgsdgsd and Lohan, I take this opportunity for a session read-jogging-bain tourbillon. Then we leave a session of rock climbing. Máel will impress the crowd (which acclamera it) completely up the wall of climbing in a single gulp!