Nothing to report.
I have to force me to write some news as it happens so nothing I have not much to tell… Bulk, here are the highlights of the last 3 days:
9 June
Rainy day. Everything is wet in the boat and as we are more and more to the North, it's cold. I miss Caribbean, their heat and lack of rain… Serge prepares us an excellent crisp Apple-PEAR-banana. Yum! The night wind rises and it broke the boat speed record in a surf. 11 + on the loch and + 10 on the GPS.
10 June
The grayness makes room for the Sun and the wind calms down. It starts to become lethargic. Our days are less and less busy patching up the boat and more to read or sleep. It is tiring to do anything!
11 June
Sunny day. A large flying fish is on deck this morning. We use it as bait, 10 minutes after its launch the reel runs for a few seconds and stops. The evening taking back everything and there is more fish at the end. What is a fish who took him either it broke… it will ever know, another day without fishing success.
The performance of the boat are excellent. We advance to 5.7 nodes in 8 knots of wind. This is when it exceeds a sailboat which is 2.5 knots fully appreciate the prowess of Jayana in little time.
12 June
It has a propane worries this morning. Two reserve bottles do not work. I put the old and we managed to finish lunch. Then I redo some tests and finally, everything starts to work. Strange… Who says said propane functional oven, so Carl has the green light to prepare his 1 bread of the crossing.
We pass by above what appears to be a sleeping whale. It is 3-4′ below the surface and it will be shortly so that we enter in collision.
Varia
On the side of fishing, it sucks. Nothing since the swordfish! I made a promise to the crew to prepare with our next sushi, but we begin to lose hope…
Know what time we demand an effort. We have 3 clocks on board: that of the boat at the time universal (UTC) for the weather bulletins and calculate our advanced, that of Montreal and that where it is (with the Sun at noon). It is always a bit mixed, but our pace fits naturally in the Sun…
It was discovered a new pet. It is a species of balloon (balloon) transparent with a wing that resembles that of a swordfish. It is transparent with two tentacles underneath. It floats like a boat and it can even make the close! And if never wind the layer, it straightens… A kind of sailing-puffer-jellyfish. (After checking, it is of Physalis.)
We see some cargos every day. That night a gigantic of 1015 feet happened a few miles from us.
Outside, it's cold and wet. Yuck. But Carl is always cheerful, even in the worst conditions!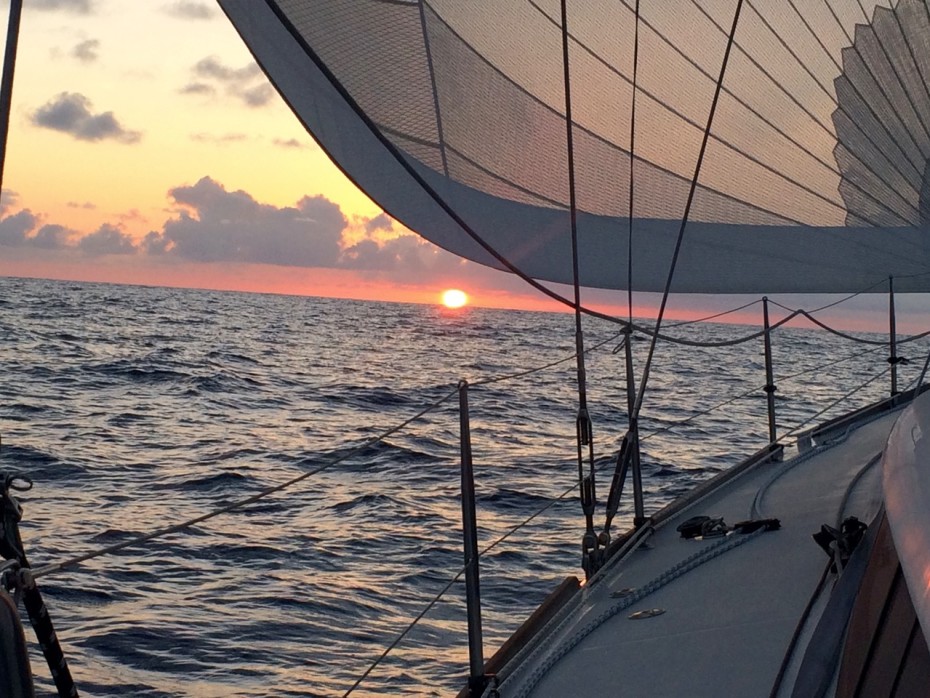 Finally the weather returns.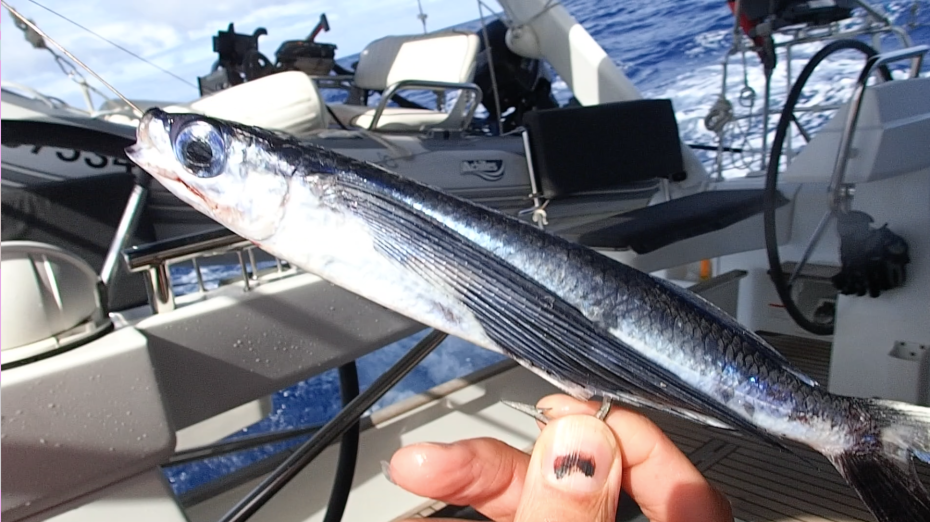 Our stowaway did not survive the night on deck.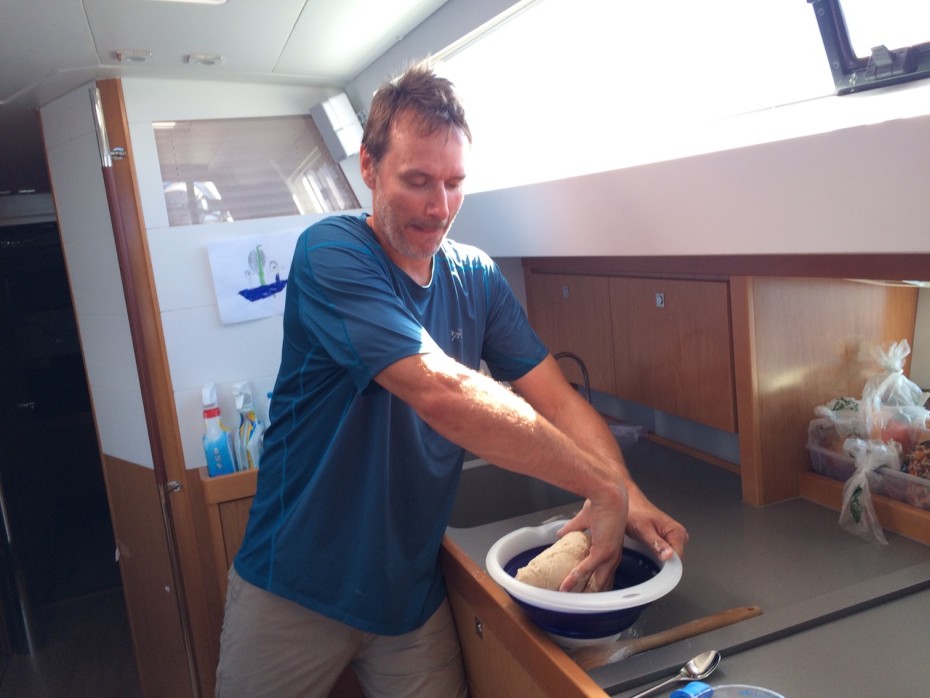 Carl gently kneads the bread he prepares. It's quite a change from the technique of Serge, who had a lot of aggression to release with the bread which he had prepared two days ago!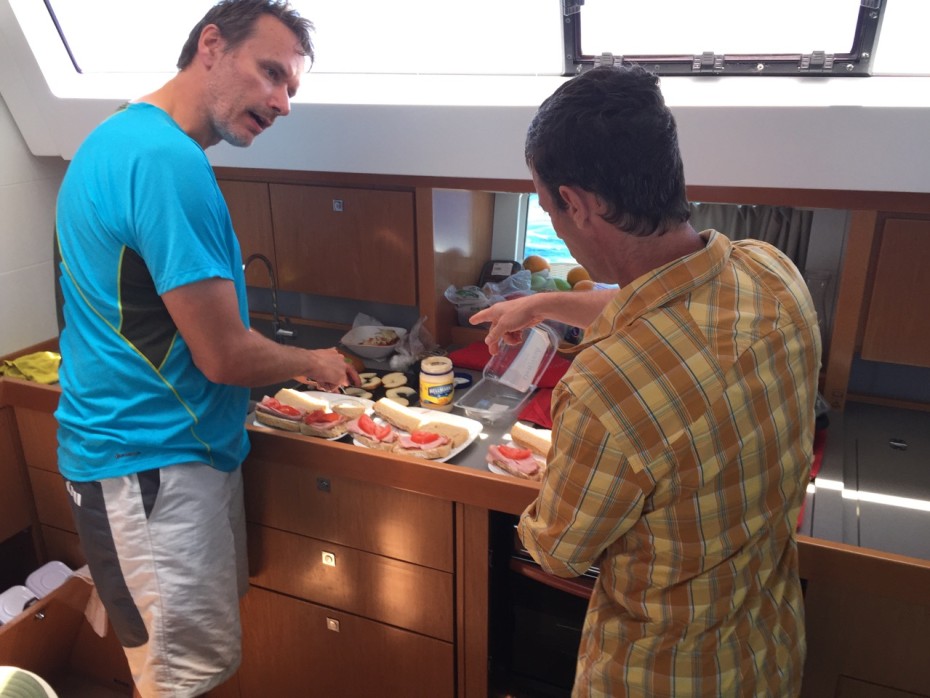 Carl in training for his kitchen to edge 201.